15 the tallest buildings in Vietnam
Recently, Vincom Landmark 81 has just taken off the roof and officially usurped Keangnam Hanoi Landmark to become the tallest building in Vietnam with a height of 461m. Vincom Landmark 81 became the tallest tower in Vietnam and Top 10 in the world. Let's join with Stylemotorbikes to "list" the top tallest buildings in Vietnam so far.
Vincom Landmark 81
The Landmark 81 is a skyscraper in the Vinhomes Tan Cang project complex, a project with a total investment of VND 30,000 billion, invested by Tan Lien Phat Construction Investment Joint Stock Company under Vingroup. The 81-storey tower is the tallest building in Vietnam. The project is built in Tan Cang, Binh Thanh District, along the Saigon River.
The Landmark 81 building has a height of 461.2 m, with 81 floors built in the centre of the Vinhomes Central Park urban area, right on the banks of the Saigon River.
Landmark 81 building has a total floor area of ​​141,000 m2, including functional spaces such as hotels, serviced apartments, offices for rent, Oficetel commercial apartments, shopping centres and restaurants,…
Keangnam Hanoi Landmark 72
Keangnam Hanoi Landmark Tower, when completed, is not only the tallest building in Hanoi but also the tallest building in Vietnam. It has a scale of 72 floors, height up to 346 m.
Keangnam Hanoi Landmark Tower is a hotel-office-apartment-commercial complex on Pham Hung Street, Nam Tu Liem District, Hanoi invested by Keangnam Group headquartered in Dongdaemun- gu, Seoul of South Korea.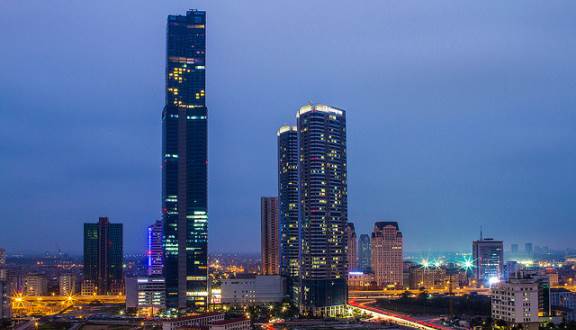 Keangnam Landmark 72 is still the highest building in Hanoi
Located on Pham Hung street, the western gate of Hanoi. Keangnam has a total investment of $ 1.05 billion for the whole project, including two 48-storey apartment buildings and a complex of office, hotel and entertainment centre,…
At an altitude of 350 meters, visitors can enjoy panoramic views of Hanoi City from above.
Currently, this is the office leasing address of many famous brands: KPMG, PricewaterhouseCoopers, Ericsson, Standard Chartered Bank, LG, JGC, FPT Software, WOORI BANK, HYUNDAI ALUMINUM.co.ltd,…
The overall project is designed by the world's leading architectural and design companies such as HOK (USA); ARUP (UK); EDAW (USA); HEERIM, SAMOO, AUM & LEE (Korea) … with modern and classy European style, making the most of the area, applying modern construction technologies and friendly materials.
Lotte Center
Lotte Center was inaugurated on September 2, 2014. Located at the intersection of Dao Tan – Lieu Giai, the centre of Hanoi with a building size of 65 floors, 5 basements, up to 272m high. Inside Lotte Center, Hanoi tower is the Lotte Mart supermarket occupying the entire basement B1.
From 1st to 6th floor is the commercial centre with high-class fashion items. There are Grade A office buildings and luxury apartments,  5-star hotels.
Lotte Center – The 2nd tallest building in Hanoi
At the top floor of the Lotte, the building is a bar and Sky Walk Observatory so you can see almost the whole of Hanoi.
West Lake is in sight when looking at the Lotte building – 272m
Bitexco Financial Tower
Bitexco Financial Tower is a skyscraper built in the heart of District 1, Ho Chi Minh City, invested by Bitexco.
The building was built on an area of ​​nearly 6,100 m². The total investment is estimated at $ 400 million, invested by a Vietnamese investment group, Bitexco Group – The investor of Bitexco Office Building, The Manor Hanoi, The Manor Ho Chi Minh City and The Garden.
The project was completed and put into use on October 31, 2010, and is the tallest building in Vietnam, until Keangnam Hanoi Landmark Tower was completed in 2011. Currently, the building is the fifth tallest building in Vietnam after Landmark 81, Keangnam Hanoi Landmark Tower and Lotte Center Hanoi and 2nd highest in Ho Chi Minh.
Bitexco Tower has 68 floors, 262m height, providing 37,000 m2 for an office area, and more than 8,000 m2 for a commercial area from 1st to 6th floor. More than 600m2 is designed for restaurants on the 50th floor, a high-class restaurant on the 51st floor and an area larger than 300 m2 on the 52nd floor for businessmen.
In addition, there is an observatory for the public on the 49th floor allows visitors to enjoy 360-degree panoramic views of the city and the Saigon River. The tower is also the first project in Vietnam to build a helipad on the 52nd floor.
Keangnam Hanoi Residential Tower 1, 2
Located in the Keangnam project complex with the 72-storey Landmark, two A&B high-end apartment towers are 212m high and have 48 floors.
A&B Tower (also known as Tower 1 and 2) at Keangnam complex
The two towers are the condominiums including 922 most luxury apartments with facilities such as fitness centre, swimming pool and shopping mall.
Vietcombank Tower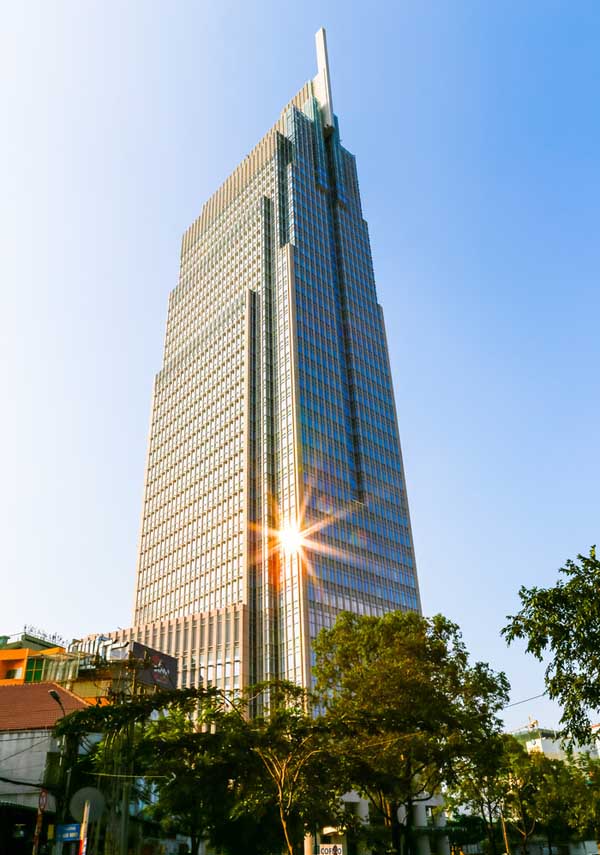 Vietcombank Tower is a high-rise building built at No. 5 Me Linh Square, Ben Nghe Ward, District 1, Ho Chi Minh City, Vietnam. The building has a height of 35 floors and a height of 206 m. The project is the head office of Vietcombank Ho Chi Minh City and leasing office.
Vietcombank Tower construction project is invested by Vietcombank – Bonday – Benthanh Company Limited with 3 joint venture partners: Vietcombank, Bonday Investment Group (Hong Kong) and Ho Chi Minh City Service Trading Joint Stock Company (Setracorp). Started construction in late October 2013, Vietcombank Tower project was completed in March 2015. In June 2015, the Ministry of Construction, the Fire Prevention and Fighting Police Department and the Department of Natural Resources and Environment of Ho Chi Minh City accepted and accepted it for use.
Saigon One Tower
Saigon One Tower (old name: Saigon M&C Tower) is a high-rise building. This will be the 7th tallest building in Vietnam and the third tallest building in Ho Chi Minh City after Bitexco Financial Tower and Vietcombank Tower.
It has 42 floors, 195.3 m high, 6,800 m2 of floor area, by Saigon M&C Real Estate Joint Stock Company (Saigon M&C) as an investor, with a total capital of up to 256 million USD.
Discovery Complex A (Apartment Tower)
Located on Cau Giay Street – The western gateway of Hanoi capital, Discovery Complex owns the position that is considered the most beautiful area in the centre of Cau Giay District. Discovery Complex is directly connected to Vietnam's first elevated urban railway and is surrounded by many streets, many green populations, parks, lakes and perfect technical infrastructure.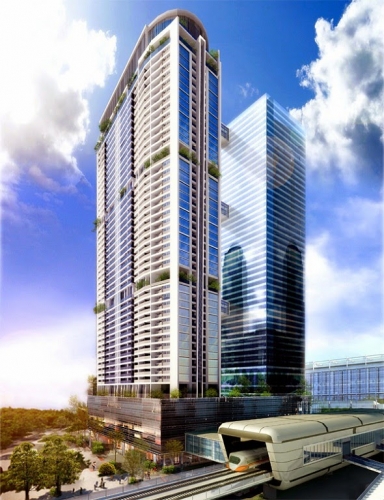 Discovery Complex A apartment tower with a scale of 54 floors, height of 195m is the tallest building in Cau Giay District.
Saigon Center 2
Saigon Center is a complex project developed along Le Loi Boulevard, one of the main boulevards in District 1, the central district of Ho Chi Minh City. The first phase of the project has been put into operation since 1996, including 3 shopping floors, 11 office floors and 89 luxury serviced apartments.
Following the successful first phase of Saigon Center, Keppel Land has continued to implement the second phase of the project designed by the world-famous architectural consulting firm: NBBJ in New York.
Outstanding Saigon Center 2 building with Vietcombank Tower
Usilk Landmark 105 (HPC Landmark 105)
HPC Landmark 105 is the most prominent highlight of the project with 2 apartment towers of 35 and 50 floors.
Inspired by the design of dazzling, soft silk strips of traditional Ha Dong silk village, HPC Landmark 105 synchronously connects with the remaining 8 buildings of the Usilk City Project with 2 basement poles near 1 km and 13 bridges across the air as a winding silk strip that adorn the landscape of the Western Capital.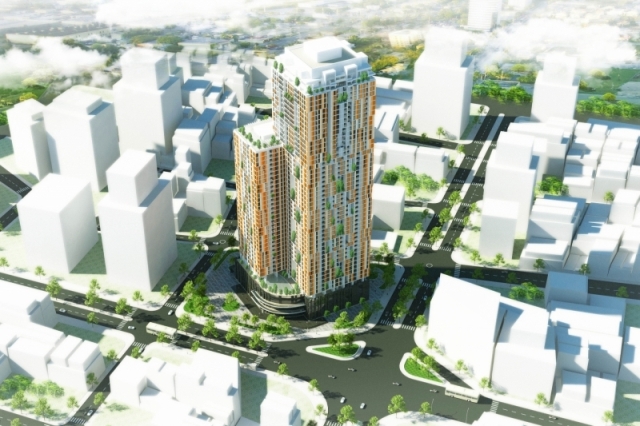 HPC Landmark 105 is an enthusiastic debut project of the investor Hai Phat Capital – a member of Hai Phat INVEST – Hai Phat GROUP system, a developer of prestigious real estate projects in the western area of ​​Hanoi.
Vinhomes Park 6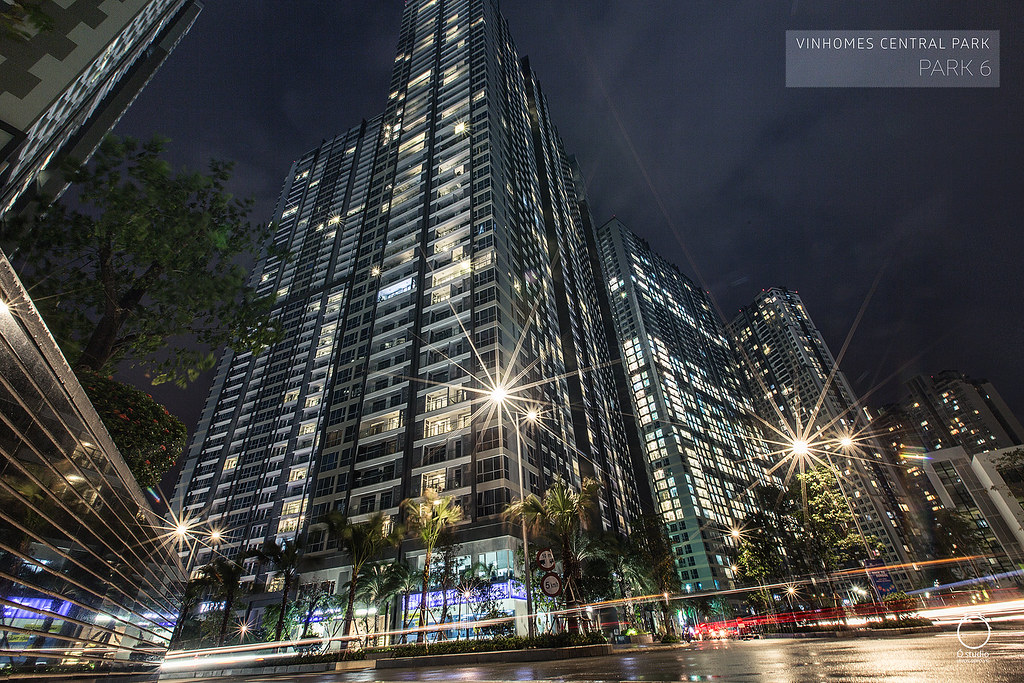 Inspired by Central Park, the world-famous New York City, with a total area of ​​up to 43.91ha, with a frontage stretching over 1km on the banks of the Saigon River;
The project is located in the Tan Cang area, one of the most favourable locations of downtown Ho Chi Minh City, flexibly connecting with important areas in the city with convenient transportation system by road. sets, waterways and subway system of Ben Thanh – Suoi Tien.
In addition to the tallest Landmark 81 tower in Vietnam, the complex also owns many tall buildings in the top of the tallest buildings in Vietnam and Park 6 with the scale of 51 floors and 186m high.
Discovery Complex B
Located in the complex of the Discovery Complex twin tower project, Tower B is designed as a professional leasing office, with a scale of 43 floors with a height of 180.00 and 7th in the tallest buildings in Hanoi.
Discovery Complex B office tower is lower, next to Tower A
Hanoi Landmark 51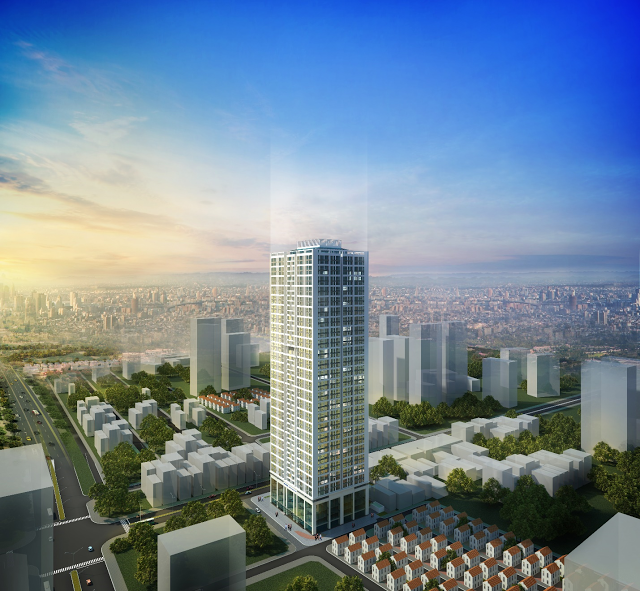 Hanoi Landmark 51 is inspired by the design style of Singapore's skyscrapers. The apartments are designed with many open sides, with wide views, friendly to the natural environment.
According to the plan, the project has a height of 51 floors, the project has 4 basements with an area of ​​over 10,000 m2. Hanoi Landmark 51 is also designed with 5 floors of shopping centres, entertainment areas and sky gardens.
Vinhomes Landmark 2,3,4,5, Plus A
The monuments belong to the Vinhome Central Park project (Vinhome Tan Cang) and the same height of 178m, the height of 50 floors.
Vinhome Central Park has many of the tallest skyscrapers in Vietnam
Diamond Flower Tower
Diamond Flower Tower has the height of 177m, 40 floors & 8th in the list of tallest buildings in Hanoi and top 20 tallest buildings in Vietnam. Located at the position of gold intersection Le Van Luong and Hoang Dao Thuy – Trung Hoa Nhan Chinh Urban Area, completed in 2013 by Hanoi Housing Development and Investment Joint Stock Company No.6.
Diamond Flower is in the top 10 of the tallest buildings in Hanoi and top 20 of the tallest buildings in Vietnam.