5 famous coffee houses Ho Chi Minh
Co Ba Saigon Rooftop Coffee
As one of the beautiful cafes in Saigon with ancient features of the riverside scenery and beautiful location in the centre, Co Ba Saigon Rooftop is a favourite destination for Saigon lovers. Old Saigon and tranquillity.
The high quality of Saigon is clearly shown by the items that the owner of the crafts collected from the windows, cabinets, tables and chairs, to the porcelain trays, which showed the vivid and colourful images of the 1980s. Many "real" items, arranged intimately in a nostalgic space with old music.
Co Ba Saigon Rooftop Coffee
A nostalgic café
 Address: 5th floor, 2-4-6 Dong Khoi Street, Ben Nghe Ward, Dis.1
OZ Coffee House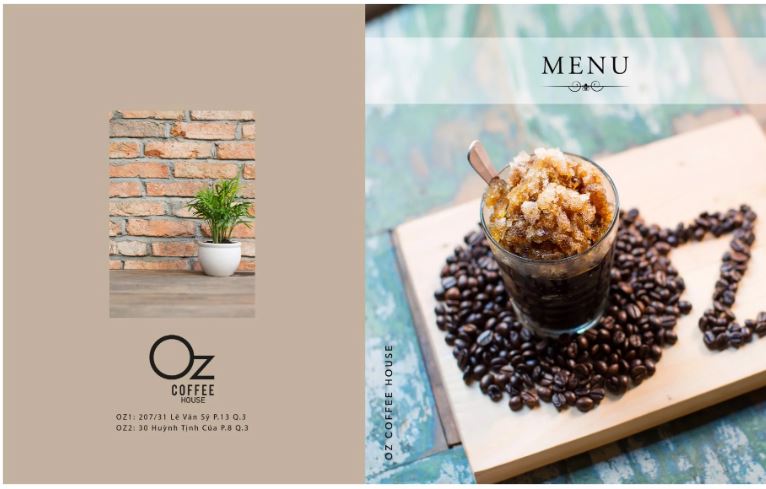 Oz Coffee House
The first impression when coming to OZ COFFEE HOUSE is the green space of trees, almost separate from the hot sun in the heart of Saigon. An ideal place for relaxing, dating and working with anyone who loves the feeling of being calmed by nature. Coming to OZ, you will find that sipping a cup of coffee among the green areas is simple, but it is enough to bring positive energy for a long day.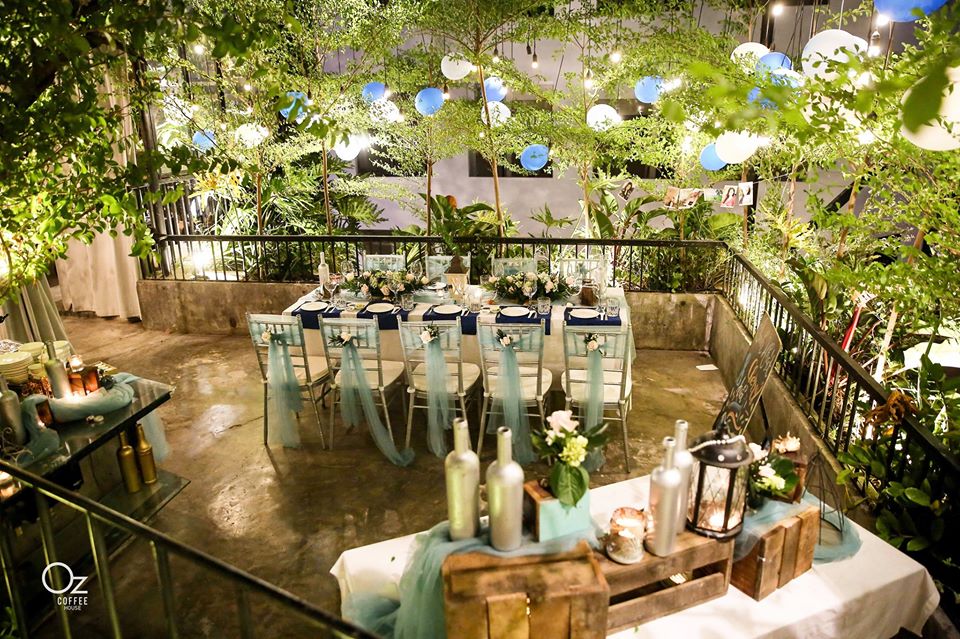 The green space of Oz Coffee House 
At the same time, with the desire to become a companion, support you to complete emotional projects, OZ COFFEE HOUSE has been increasingly improving in creating and constantly renovating space to do richer choices for you. This is reflected in a distinctive design style, mixed with a bit of classic and modern.
– Branch 1: 207/31 Le Van Sy, Ward 13, District 3 expands the space with a modern and luxurious 7-storey design. Sky view over the city.
– Branch 2: 30 Huynh Tinh Cua, Ward 8, District 3 is like a fairy garden filled with trees called "ROOFTOP in the heart of Saigon". In addition to separate classic spaces, it also has a cool terrace, suitable for romantic night parties filled with lights.
– Branch 3: 273/46 Nguyen Van Dau, Ward 11, Binh Thanh District, although born at the latest, has soon become an ideal place for summer parties thanks to the beautiful green pool, like a "Resort" dreaming really between Saigon bustling, busy.
Café Terrace
Café Terrace is located on the ground floor of a busy commercial centre named Takashimaya (Saigon Center) on Le Loi Street. If you have a chance to glance at Café Terrace for a few seconds, you will not be surprised and surprised by the unique and impressive beauty of this café. This is one of the cafés that own the space designed in a unique style, new and attractive in Saigon, which can make you be "captivated" at first sight!
Café Terrace has both a classic warmth and a modern, artistic touch
Entering Café Terrace, you will feel like you are lost in a magical forest in your childhood fairy dreams, immersed in the green space of plants and trees, exuding a poetic beauty to your heart. In addition, you will also feel the mysterious, mysterious scenery with magical lights dangling in the middle of the space.
Unreal space, a bit of haunting is very special
Address: Ground floor, Saigon Center, 65 Le Loi, Ben Nghe Ward, District 1, TP. HCM
Lily's Garden Caffee
Located at 114 Street 6, Tam Phu Ward, Thu Duc District of Ho Chi Minh City, Lily's Garden Caffee impresses visitors with its unique, cute design. The shop was built from bright yellow pipes, dazzling an angle of the yard. Besides, the shop also combines with open architecture and transparent glass bridge to create a spacious and airy space. Beneath the glass bridge is an extremely lovely Koi aquarium.
Green space and special architecture
Cafe "sewer – glass bridge" owns a unique design style, modern but still filled with green space. Trees, grass, flowers are planted covering all gaps in the shop space. Anyone who sees the shop for the first time will love it and want to come back again and again.
A wonderful combination of delicious drink and a beautiful space.
Address: 114 Street 6, Tam Phu Ward, Thu Duc District of Ho Chi Minh City.
Facebook: https://www.facebook.com/LiLysGardenCaffee/
Blank Lounge
Coming here, you can both enjoy food and drinks and have a 360-degree view of the city from the height of hundreds of meters at the Blank Lounge cafe – bar.
Thanks to the glass walls, during the day, this place is always full of light. This makes this lounge bar the perfect destination for those who like to take photos in luxurious spaces. Blank Lounge with beautiful city view and modern, open space is a place worth visiting when you need a relaxing time for yourself, separate from the noisy life.
City view from Blank Lounge cafe
The best time to go to Blank Lounge is after 6 pm when you can relax watching the sunset and enjoy Vietnamese-flavored cocktails. The Blank Lounge does not enter from Vincom but at Vinpearl Luxury. At this point, visitors just need to say on the Blank Lounge, there will be a dedicated guide.
Romantic view of Blank Lounge café in the afternoon
Address: the 75th, 76th floor, Landmark 81, Ho Chi Minh City.
Facebook: https://www.facebook.com/blankloungelandmark/
Images by David Dewitt