6 best western breakfasts in Ho Chi Minh City
Godmother bake and brunch
Located right on Dong Khoi Street, District 1, Godmother Bake & Brunch impresses young diners with its cute, sophisticated yet luxurious design. With a series of large windows overlooking Dong Khoi Street, pink benches and alternating green pots make Godmother a bright, peaceful space suitable for brunch meetings with your friends.
Sophisticated and luxurious room in Godmother bake and brunch
Godmother is famous for creative innovation with traditional dishes. You can try the Secreto Com Tam – the modern version of a familiar dish for so long. Besides, Godmother also offers diners Western breakfast foods, such as benedict, pancake, butter toast. Accompanied by food is a collection of healthy drinks, from Kombucha to green smoothies.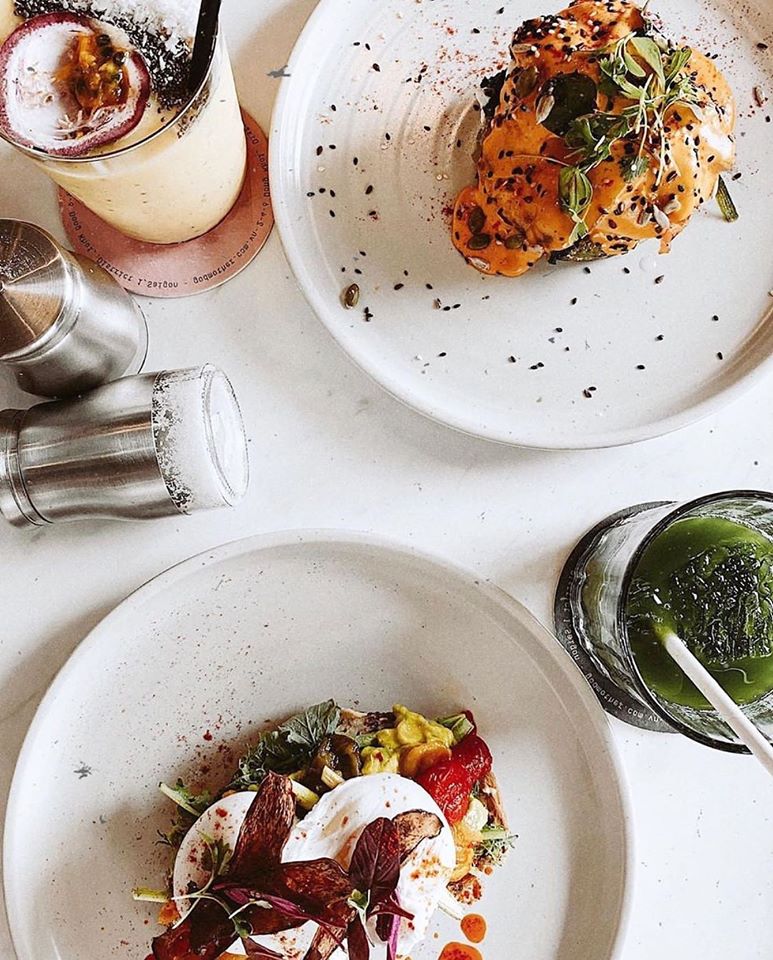 Healthy food and smoothies.
Address: 4 Dong Khoi Street, Ben Nghe Ward, District 1, Ho Chi Minh City.
Facebook: https://www.facebook.com/godmothervn/
Instagram: https://www.instagram.com/godmother.vn/
L'Usine
The toast of the restaurant is usually French Brioche, served with a variety of topping such as smoked salmon, butter, quinoa (quinoa), chia seeds, strawberries and fresh flowers. In addition, the sweet breakfast dishes of the restaurant are also very attractive and worth a try.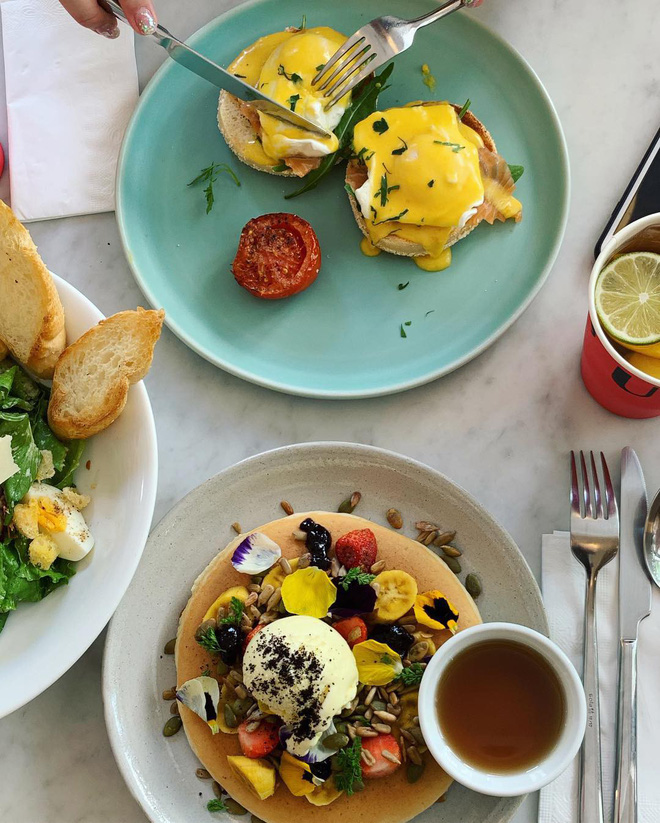 Colourful and yummy  dishes
Examples include waffles and pancakes served with fruits, nuts and sauces. These dishes are not only suitable for breakfast but also suitable for afternoon snacks or desserts. Especially, if you come late in the afternoon, you can still order these dishes, true to the name "all-day breakfast".
Address: Le Thanh Ton, District 1.
Facebook: https://www.facebook.com/pg/Lusinespace/posts/
The Elbow Room
The Elbow Room, located in the busy Pasteur street, is a warm, luxurious American bistro restaurant offering a wide selection of menus from appetizers, soups, salads, or burgers along with a wine menu impressive reverberation.
Come to The Elbow Room to start the day with an omelet, delicious French toast slices or Lumberjack breakfast set served all day. Lunch and dinner are also popular with special menus including Philly cheesesteak, pizza, chicken stew or simply a giant size burger on the plate.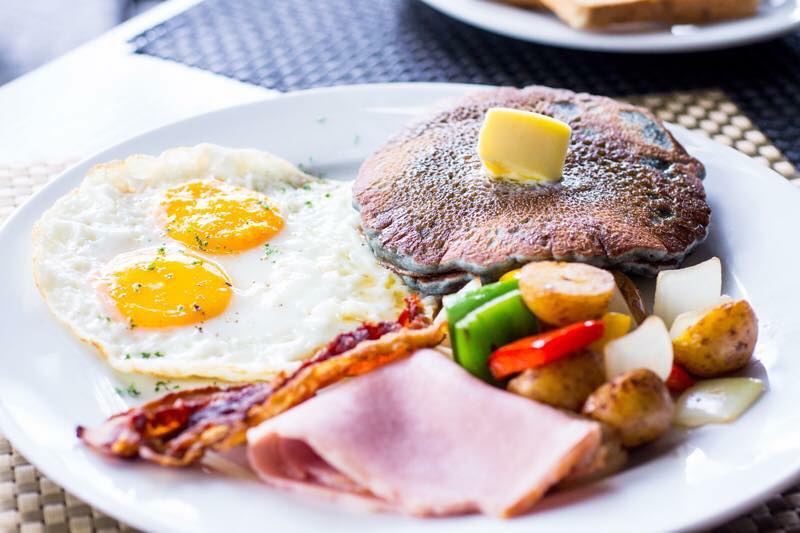 Enjoy your American style of dining
Every guest who comes here can experience an attractive, American style of dining and immerse themselves in the atmosphere of jazz.
Address: 52 Pasteur, Ben Nghe, District 1,Ho Chi Minh City.
Facebook: https://www.facebook.com/theelbowroomsaigon/
Café Marcel
In 2017, Marcel Gourmet Burger was born in Saigon with delicious burgers.
Following those successes, in 2019, the burger owner continued to launch Café Marcel, in order to affirm the mission of bringing French cuisine to Vietnamese cuisine believers. Inspired by cafes in the south of France, Café Marcel is designed with open space, lightness and sunshine. This is an ideal destination for a Saturday when you have time to relax after a week of work, and out there, on Nam Ky Khoi Nghia Street, the traffic is still busy. Haan – Drink & Eatery.
Explore the classic breakfast flavour with a few minor variations
At Café Marcel, you can explore the classic breakfast flavour with a few minor variations. For those who want a breakfast of their choice, Café Marcel is here to please you, with an open menu for you to choose your own combination. Specifically, you can choose the type of egg, side dishes and one of the four sauces available on the menu. In addition, to make breakfast as perfect as possible, Café Marcel adds a new and classic cocktail menu such as Thyme Tonic or Tennessee Sour.
Address: 96 Nam Ky Khoi Nghia Street, Ben Thanh Ward, District 1, Ho Chi Minh City
Facebook: https://www.facebook.com/cafemarcelsaigon/
Instagram: https://www.instagram.com/cafemarcelsaigon/
The Vintage Emporium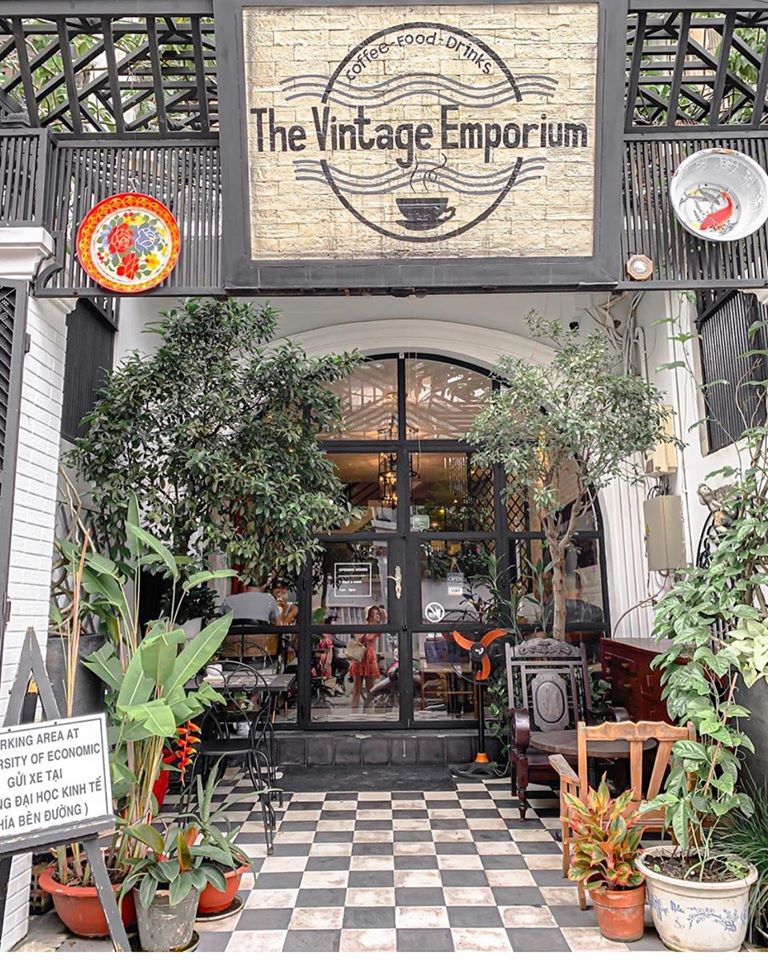 Beautiful and vintage space of The Vintage Emporium
With two branches in District 1 and District 2, The Vintage Emporium has long held a place in the hearts of many foodies with a hearty Western breakfast. In general, the design of The Vintage Emporium in both locations focused on showing classic features through streamlined but luxurious furniture. In addition, in this District 2 branch, the attached swimming pool design has made the shop an ideal destination for those who wish to escape the stifling hot weather in urban areas.
Creative decoration of The Vintage Emporium
The quality and decor of dishes are other highlights of The Vintage Emporium. The ingredients are carefully selected and the dishes on the menu are processed in the direction of good for health. In addition, the eye-catching and sophisticated presentation helped The Vintage Emporium score points with customers upon their arrival. You can combine your brunch with a wide selection of drinks, from smoothies, juices to cocktails.
Address 1: 95B Nguyen Van Thu, Da Kao Ward, District 1, Ho Chi Minh City
Facebook:  https://www.facebook.com/TheVintageEmporiumSGN/
Address 2: No. 1, Street 39, Thao Dien Ward, District 2, Ho Chi Minh City
Facebook: https://www.facebook.com/thevintageemporium.thaodien/
Au Parc
Peaceful and relaxing in a Mediterranean restaurant.
Au Parc serves mostly Mediterranean cuisine. Not only means Spanish, French and Italian delicacies but also Turkey, Cyprus, Lebanon, Syria, Israel, Egypt, Tunisia, Algeria, Morocco, Greece and more.
Wines from Italy, France, Spain, Lebanon and other wine regions are served with food and tapas to make your meal perfect.
Located between the Reunification Palace and Notre Dame Cathedral, the city's cultural centre with simple and rustic architecture from original bricks has created a unique charm for the restaurant. Space has a peaceful and relaxing feeling, this is the perfect destination for a busy day.
Mediterranean cuisine in Au Parc
Au Parc is open for breakfast, lunch and dinner.
New York or Turkish brunch dishes are served from 11 to 4 Saturdays and Sundays.
Address: 23 Han Thuyen, District 1 Saigon, Vietnam
Facebook: https://www.facebook.com/auparc.saigon/
The Deck Saigon
The Deck Saigon is a business system which includes luxury, modern bars and restaurants, readily serving not only Western cuisine but also traditional flavour ones. Located next to Saigon River, The Deck Saigon dresses up a sparkling natural beauty. From fresh and pure dawn till flushed sunset, The Deck Saigon is twinkle in sunlight reflected in the water surface. The harmony between modern architecture and the beauty of nature has made this restaurant a great attraction.
The harmony between modern architecture and the beauty of nature
The Deck Saigon open whole day, therefore you can enjoy a Western breakfast have a fruit smoothie, Eggs Benedict, homemade Granola and crepe cake. After that, you can grab your lunch with fried foie gras and Wagyu beef served with bento and Phu Quoc shrimp roll. In addition, to please those who love fasting, the restaurant has a vegetarian and gluten-free menu.
Variety menu of The Deck Saigon
Address: 38 Nguyen U Di St., Thao Dien District 2, Ho Chi Minh City
Facebook:  https://www.facebook.com/thedecksaigon/