9 music stores in Ho Chi Minh City
Live in music is the best way for you to release your stress and have a more beautiful and diversity soul. The melodious piano, the crisp violin, the soft guitar … will definitely be the best "mental medicine". We highly recommend to you some music stores in Ho Chi Minh City because we think that they can help you live totally with your music passion.
Tien Dat music center
Established in 2004, here is one of the first agency of Yamaha, Casio, Roland, Kawai… in Ho Chi Minh City. They considerate towards their customers and have good selling service. This music store located conveniently for students and office workers to visit after school and working time.
Most of the customers thought that there is the best address providing Japanese domestic piano in the Southeast area. Besides that, Tien Dat music center is famous for enthusiastic and professional working style. Both of them make this music store become more prestige.
Working with the slogan: "Awakening your music passion", Tien Dat music center has much good policy for students and customers. If you're a student, you'll be sale off 20% when buying guitar and ukulele. Price discount and support complete document for the agency or customers who buy with a big quantity.
Showroom of Tien Dat music center in Ho Chi Minh City.
Address: 91 Dien Bien Phu – Ward 15, Binh Thanh District, HCM City
Phone number: 35144875 – 0904.83.1381 / Fax: 02835118092
Minh Thanh P.I.A.N.O
Minh Thanh piano established Suoi Nhac Quang Trung school to teach from basic to professional knowledge, open opportunities for someone who passion for music. Besides teaching, Minh Thanh Piano provides a variety of musical instruments serve for studying demand, entertainment and professional performance.
With the familiar slogan "Awakening and developing love of music", Minh Thanh Piano is always proud of being a company dedicated to serving customers with a full range of music fields including music lessons, performances, specialized research deep, music studio, … with famous brands in the world.
Minh Thanh Piano has many choices for customers
Product Category:
Piano Brandnew
Piano Secondhand
Electronic Piano
Organ
Audio: speaker cable, signal cable, separate speaker, amplifier, …
Church organ
Guitar
Ukulele
Harmonica
Violin
Saxophone
Drum
Accessories
Contact information:
Address: 369 Dien Bien Phu, Ward 4, 3 District.
Phone number: 08 3839 6368
Hotline: 0949 076 789
Tien Manh music store
In addition to specializing in producing and supplying musical instruments, Tien Manh is also an agent for buying, selling, consigning goods and buying and selling teaching equipment. Not stopping there, Tien Manh also produces and sells office and school equipment; Manufacturing and trading of audio and light equipment as well as import and export of goods that the company trades. Especially, Tien Manh also provides a reputable online musical instrument trading service through the store's official website.
Tien Manh always meet the requirements of the most demanding guests
Product Category:
Piano
Guitar
Organ – Keyboard
Ukulele – Guitarlele
Violin – Viola – Cello
Musical folk instruments – Gzheng – Erhu
Drum – Accessories drum
Harmonica – Melonion
Micro
Speaker – Mixer
Mandolin
Ampli Guitar – Amplifier
Accordion
Tambourine
Saxophone – Flute – Trumpet – Clarinet
International school musical instruments
Accessories – Other
Contact information:
Address: 70 Hao Nam, O Cho Dua, Dong Da District, Hanoi.
Phone number: 04 8587 7984 – 0979 499 501
Address: 44 Nguyen Thien Thuat, Ward 2, 3 District.
Phone number: 08 3832 5786 – 0918 462 840
Address: 255 Hai Phong, Tan Chinh, Thanh Khe
Phone number: 0511 3837 581 – 0905 169 878
ACE music
ACE Music works with the goal of providing customers with the most prestigious and quality instruments from the world's leading prestigious brands such as Yamaha, Casio, Fender, Roland, Samick, Taylor, Zildjian, Suzuki, Lazer, D'addario…. and at the same time, ACE Music also wants to train and facilitate the development of talents for anyone who has passion and dream of success on the music path. When visiting and shopping at the ACE Musical Instrument Store, you will be completely assured and confident in the reputation of the store as well as be assured of the origin of each different product, along with manufacturing genuine warranty. You will easily find yourself the best choice of high-quality musical instruments for your family and your loved ones.
With the motto is to bring customers modern music classes with a lively science teaching method suitable for all students as well as providing the best quality instruments from floating brands. Well-known in the field of instrument production, along with the most thoughtful and dedicated service, ACE Music always receives the trust and love of close customers.
ACE Music has the strength of a large store area convenient for displaying products
Contact information:
Address: R4-48 Phan Khiem Ich, Hung Gia 2, Tan Phong Ward, 7 District.
Hotline: 0909 168 742
Phone number: 08 5416 6789
Nang hong
The first Nang Hong store was officially opened and put into operation on April 30, 2009. After nearly 8 years of operation, Nang Hong has gradually asserted its prestige and brand in the market, with more than 1,000 different products from famous brands of Vietnam and so on. gender. When coming to the store, you will be consulted specifically about the quality and features of the product. Nang Hong is committed to bringing the greatest satisfaction in product quality at the cheapest price compared to the market price of musical instruments.
In addition to regular customers in Ho Chi Minh City, Nang Hong also provides wholesale products to many provinces and cities such as Long An, Tien Giang, Vinh Long Ben Tre, Go Cong, Kien Giang, Vung Tau, Binh Duong, Binh Thuan, Gia Lai, Nha Trang, … In addition, Nang Hong also has modernly equipped music classes with a team of professional and dedicated teachers.
Nang Hong has a variety of musical instruments to choose
Contact information:
Address: 300 Bach Dang, Ward 14, Binh Thanh District
Phone: 08 3551 0200 – 0913 716 484 – 0933 107 808
Address: 36 Bis Nguyen Binh Khiem, Dakao Ward, District 1
Phone: 0913 716 484 – 0918 204 292
Viet Thuong music
Viet Thuong is a leading group of companies in Vietnam in the field of distributing musical instruments, professional audio and lighting equipment as well as music education and training. Viet Thuong is also the best destination for music lovers to have direct access to the instruments they dream of.
Viet Thuong always gives you many choices with most of the leading brands in the world. With more than 20 activities and development, Viet Thuong is considered an experienced consultant for anyone who wants to create sounds, create melodies, create music with personal effects for himself, for family and for society.
Viet Thuong specializes in providing musical instruments from almost all brands in the world
Contact information:
Address: 386 Cach Mang Thang 8, Ward 10, District 3
Phone: 08 3931 6540 -08 3931 6541
Hotline: 0938 218 216
Phong Van musical instrument
Phong Van is a store specializing in producing drums, handicrafts as well as school equipment, ethnic musical instruments, especially importing and distributing modern musical instruments to many businesses, unions and personal customers nationwide. Phong Van always updates the latest designs on the market with the most competitive prices. With the best quality, any product brought to the market will be carefully researched and censored at the factory to bring satisfaction to customers.
With the motto "Customers are always right", Phong Van has expanded its market to many provinces and cities across the country and has always received the trust from customers.
Phong Van is one of the rare shops that also offer prestigious ethnic instruments
Contact information:
Hanoi:
Address: 455 Ngo Gia Tu Street, Long Bien District
Phone: 0432 161 759 – 0981226887
Ho Chi Minh City
Address: Số 66 Nguyen Huu Tien, Tay Thanh Ward, Tan Phu District
Phone: 08 6269 3239
Address: Số 169 Dinh Bo Linh street, Ward 26, Binh Thanh District.
Phone: 086 297 8268
Nhac cu dep Shop
Nhac cu dep Import and Export Company is a leading group of companies in Vietnam in the field of musical instrument distribution. In addition, Beautiful Musical Instruments provides modern sound and light equipment and music related classes. Beautiful instruments increasingly affirm their prestige with many products from leading brands in the world. The variety of products, affordable prices, a large network of stores are the plus points that bring beautiful instruments closer to even the most demanding customers.
Beautiful instruments increasingly assert their position
Product portfolio:
Guitar
Guitar Bass
Woodwind musical instruments
Percussion, Drum set
Keyboards – Piano
DJ Karaoke
Accessories
Contact information:
Address: 789 Cach Mang Thang 8, Ward 7, District 10
Phone: 0919 034 230 – 08 6683 0523
Address: 310 Duong Quang Ham, Ward 5, Go Vap District
Phone: 0919 034 230 – 043 7606 705
Address: 298 Nguyen Thi Minh Khai, Ward 6, District 3
Phone: 0919 034 230
Mitacos music center (Thien An musical instrument)
With the motto of activity is to constantly learn, be constantly creative and always wish to give music lovers the latest, highest quality, best quality, suitable and best-suited musical instruments. The instruments at MITACOS are always updated and supplemented regularly and continuously with a lot of different preferential policies, ensuring customers enjoy the highest benefits when coming to the center.
Thien An Musical Instrument was born with a great goal of becoming a reputable musical instrument supplier with the best quality products at a reasonable price, which can meet the needs of all customers. in Ho Chi Minh City as well as the whole country.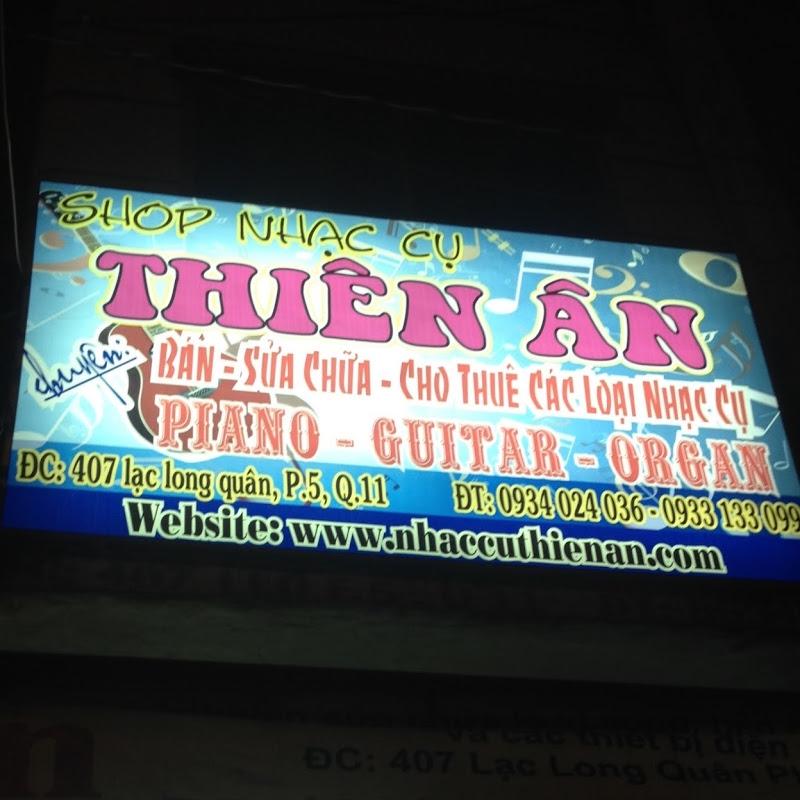 Thien An musical instrument is only a small store but it is trusted by the quality of its products
Product portfolio:
Piano: Yamaha, Roland, Kawai, Korg, Casio
Organ: Casio, Yamaha
Guitar: Yamaha, Morris, Matsuoka …
Contact information:
Address: 407 Lac Long Quan, Ward 5, District 11
Hotline: 0934 024 036 – 0934 024 038
Phone: 0838 654 104
Musical instruments will be a close companion of yours, so when making the decision to buy any type of home, you must consider carefully! Any choice will make your life filled with music and joy.