Backpacker from Vietnam to Laos by motorbikes
If you have visited Vietnam we recommend you after discovering Vietnam you should come to visit Vietnam's neighbour. One of our close-knit friends is Laos. This is the most special country in Asia because this nation is the only country don't have a beach. If you don't mind and love discovering, you should try to go backpacking from Vietnam to Lao by motorbikes and contemplate Laos' beauty.
To be more convenient for you, we give you some necessary information to help you have an amazing trip.
Preparing
Mean of transportation
To have a perfect trip you need to prepare carefully everything, especially your transportation. In this content we'll guide you prepare for a trip by motorbikes, therefore, you must buy or rent good quality motorbikes.
If you have a motorbike, all you need to do is maintain it well, change the oil, check the brakes, lights, tires, chains, etc. It is best to bring a pump and a set and machine oils for handling in emergencies.
If you don't own a motorcycle, you should consider renting one. In Vietnam, many shops provide motorbikes rental service for backpacking. You can refer here Before renting any kind of bikes you need to check its' quality and all papers included carefully.
Besides that, you prepare an IDP (International Driving Permit), which is a requirement you need to drive any means of transportation in other countries.
Mean of transportation for travelling from Vietnam to Laos
Luggage
As other backpacker trips, you need to prepare enough clothes for you to use for the whole trip. In addition, you need some necessary things like a jacket, sun protection clothing, scarf, face mask, raincoat, hair dry machine, shoes, sandals, drugs, camera, mobile phone…
On the other hand, the road to Laos is winding. Distance between Petro oil stations in there is quite far and it just opens from 8 a.m to 5 p.m. To make sure that you mustn't get into trouble with your motorbike you need to bring the oil.
You need to prepare enough luggage for the whole trip
Identification paper:
Wherever you go, do not forget to bring identification such as:
People ID
International driving license
Passport (valid> 6 months)
Vehicle papers.
Passport: This ticket you will be issued when you arrive at the border, you just need to fill out the information and bring it along during the journey, remember to be careful to return to Vietnam.
For each of these documents, you should make one additional copy.
Money:
You should bring certain cash to spend and a backup. Besides, you should carry an international ATM card, maybe a visa, master card … The domestic payment card will not help you in case you are abroad.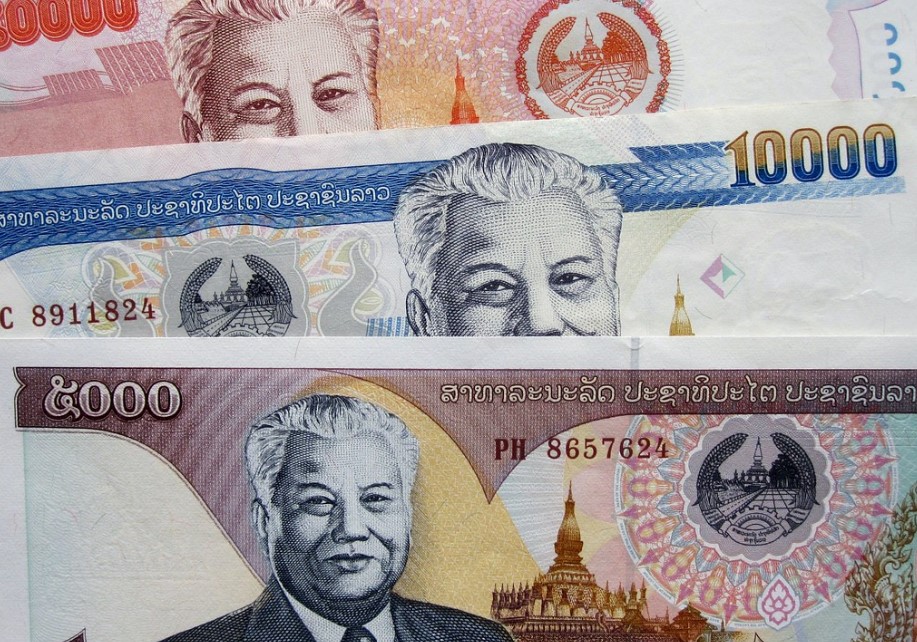 Preparing Laos's currency 
Immigration procedures
Exit (Na Meo – Nam Xoi): Erect the car outside, enter the immigration room to declare, stamp the passport and pay the fee (VND 20k / person), then go to the customs' office to declare the car, fill in the information Information, chassis number (100k VND / car). In Nam Xoi do the same with 20k kip/person and 50k kip/car. The gate opens at 7:00 and closes at 16:00
Entry (Nam Phao – Cau Tre): Do the same with exit, pay attention to the south of Phao to queue for a long time, so come to take advantage of the passport immediately. Entry does not cost money, nor does our group get checked baggage, vehicles at all. The gate opens at 7:00 and closes at 19:30
Exchange currency and mobile sim
You should change money at Lao Viet Bank and Phongsavanh Bank. These are two banks, where you can exchange money with a reasonable exchange rate from VND or USD to Lao Kip.
You should also use the XE Exchange app, which is a convenient application that will help you update your current rates.
In addition, you can also exchange money at the points at the border at the daily price. Both to and when to leave if there is money left.
Exchange money in Lao Viet Bank
You should prepare 2 phones, one of them does not need to be a smartphone, install the regular Viettel sim, before leaving, compose the CVQT to send 138 to register for roaming, to keep the old number to call home takes 2000 VND/minute. A phone to the land you buy Laos sim installed to use 3G to communicate, google map, on the network.
List of border gates
Bo Y border gate: Bo Y commune, Ngoc Hoi district, Kon Tum province
A Dot border gate: A Luoi district, Thua Thien Hue province
Lao Bao border gate: Huong Hoa district, Quang Tri province
Nam Can border gate: Nam Can commune, Ky Son district, Nghe An province
Cau Treo international border gate: Huong Son District, Ha Tinh
Cha Lo border gate: Minh Hoa district, Quang Binh
Chieng Khuong Border Gate: Song Ma District, Son La Province
Huoi Puoc Border Gate: Muong Loi Commune, Dien Bien District
Long Sap border gate: Long Sap commune, Moc Chau and Son La
Tay Giang Border Gate: Ch'Mom Commune, Tay Giang District, Quang Nam
Ten Tan border gate: Ten Tan commune, Muong Lat district, Thanh Hoa province
Na Meo border gate: Quan Son district, Thanh Hoa province
International Border gates between Vietnam and Laos
Schedule
Below is a suggested route for an 8-day-7-night trip. Please refer and consider for your trip.
Schedule 1:
Day 1: Hai Phong (Hanoi) – Na Meo (Sam Nue)
Day 2: Na Meo (Sam Nue) – Phonsavan
Day 3: Phonsavan – Plain of jars- Phou Khoun – Luangprabang
Day 4: Koung si waterfall, Pak ou cave, Luang Prabang
Day 5: Luang – Vang Vieng
Day 6: Vang Vieng – Vientiane
Day 7: Vientiane – Cau Treo – Huong Khe
Day 8: Huong Khe – Hai Phong (Hanoi)
Schedule 2:
Day 1: Hanoi (Hai Phong) – Na Meo (Sam Nue)
Day 2: Na Meo (Sam Nue) – Muang Ngoy (Nong Khiew)
Day 3: Muang Ngoy – Pak Mong – Pak Ou – Luang Prabang
Day 4: Luang – Vang Vieng
Day 5: Vang Vieng – Vientiane
Day 6: Vientiane – Phonsavan
Day 8: Phonsavan – Jars field – Sam Nue
Day 8: Sam Nue – Hanoi (Hai Phong)
Some advice for you when driving motorbikes from Vietnam to Laos
We recommend that you start your journey early and arrive at the border before lunch to proceed at the checkpoint faster to avoid waiting for staff at lunchtime.
Do not forget to exchange your money for easy trading.
Try to go to Savannakhet or Thakhek before it gets dark because there are no street lights on the road. However, you should not worry because these are good roads, you can go at a speed of 70-80km / h.
Beware of cows and goats that are grazed on the road.
The weather in Laos in the summer is very hot, so prepare long sleeves to protect your skin and always carry water with you.
Always make sure your gasoline is enough to go because on the way to the gas station is quite far apart.
You also pay attention because the traffic police here do not care if you are a local or a foreigner, they will be able to keep your car.
Above we have summarized some information you need to know to be able to travel in Vietnam. Information about the things you need to prepare, the route from Vietnam to Laos and some notes so you can be more convenient during the procedure as well as on the move. Hope this information is useful to you.