Discover 10 beaches with natural beauty near Ho Chi Minh City
If you need a weekend getaway from the city or simply looking for a break from the urban scene, there are hidden beach towns dotting the coastline of southern Vietnam.
1. Long Hai Beach
Locating just shy of 100km outside of Saigon, Long Hai beach is the closest escape from the hustling and bustling city. Long Hai is definitely is not the nicest beach Vietnam has to offer, but being in the far south, it is rarely affected by storms and monsoon season, making it fuss free to visit all year round.
Best time to visit is between October to November when cherry blossoms are in season.
How to get to Long Hai
Cars, motorbikes, buses are the most popular ways to reach Long Hai, motorbikes being the most preffered one. Hydrofoil fast ferry is also an option. They're the quickest way and is an experience worth trying.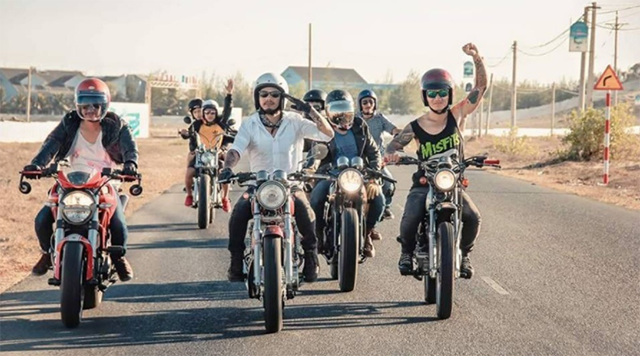 There are 2 routes to Long Hai:
• Follow 1A Highway to Dong Nai bridge onwards to QL51 which will take you to Vung Tau. From there, take TL 44A by the coast to reach Long Hai.
• To save 20km of driving, take Cat Lai Ferry in District 2 to Nhon Trach. Take QL 51 to Vung Tau and follow the above route.
What to eat in Long Hai
Local delicacy in cludes:
Bánh xèo
Banh xeo, translated to sizzling pancake, got its name from the sizzle sound when rice bater is poured into a hot skillet. Banh xeo also known as savoury pancake is served with a side of fresh assorted herbs and dipped in sweet and spicy fish sauce.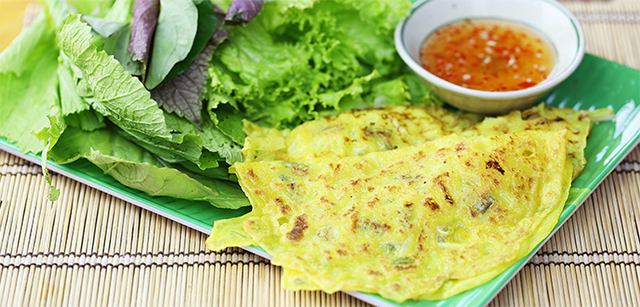 The filling can be meat, mushroom, shrimp, and even vegetarian.
Lobster / Crayfish 'blood' pudding
Vietnam cuisine is famous for testing the limits of adventurous foodies. Blood pudding made itself to the top 5 of pushing your boundaries. Fortunately enough, lobster "blood" pudding has the texture of a translucent raindrop cake instead of a gory red one like duck blood pudding. Off-putting as it sound, lobster blood pudding is quite refreshing when paired with lime juice to enhance the saltiness of the meat. It is worth trying, but do it at your own risk!
Seafood
Seafood is of course the most popular here. They can be found at any market, days and night, and are served with different sauces.
What to do in Long Hai
Here are the most frequented places to visit in Long Hai:
Truc Lam Chan Nguyen Monastery
Truc Lam Chan Nguyen Monastery was built in 1987. With the quiet space for meditation blend with the magnificent nature, the scenery can mesmerize anyone step foot into this majestic and poetic heaven on earth. This is where the soul can reach serenity and true peace and all of that can mix with the blue of the sea and the sky, with the green of the forest behind. Locals call it
Monkeys Pogoda so be careful with your belongings whilst visiting.
Fresh Water Pass
The fine yellow sand stretches and interleaves quite rows of green tree. Besides swimming, you can also camp on the yellow fine sand.
Minh Dam Mountain
Minh Dam Mountain, once a military base, has been classified as a historical monument. The place offers a glimpse of Viet Cong life back in the days. At 355 metres above sea level, it also has a bird eye's view of the vast ocean.
Where to stay
There are a few accomodations available ranging from guest house to high-end resorts.
Guest house or mid range hotels is around 300 – 400k per night.
2. Vũng Tàu
Vung Tau is located about 95km from Sai Gon. It is one of the more quiet and laid back beach town in the South. It is th tourist and commercial centre of Ba Ria – Vung Tau.
The whole city area lies on a peninsula which is separatedfrom the mainland by a gulf river called Co May.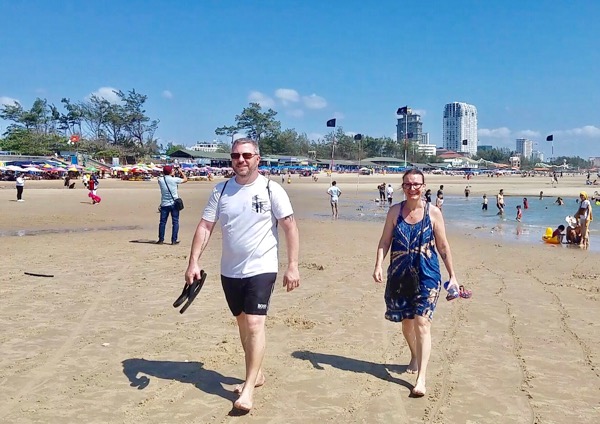 During 14th and 15th centuries, the cape that would become Vũng Tàu was an area which European trading ships visited regularly
How to go to Vung Tau
Vung Tau is only 100km from Ho Chi Minh or a 3 to 4 hour drive. You can go there by car or bus, motorbike, and hydrofoil. Motorbikes remains the more popular means of travel since it allows you to stop whenever you feel like resting or just to enjoy the view.
For motorbikes:
• Follow QL1A to Dong Nai bridge then take a right towards QL 51 to reach Vung Tau 100km from there.
• To make the trip shorter, take a ferry at Cat Lai Ferry in District 2 then follow QL 51 to Nhon Trach Industrial Park. It'll cut it short by 20km.
For cars, take Long Thanh – Dau Giay expressway.
What to eat
Vung Tau delicacies includes:
White Sardine Salad Roll
White Sardine Salad Roll is known for the aroma of fresh fish paired with fresh herbs and peanuts to top it off.
White sardine is marinated in a mixture of ginger, lemon grass, onion, lime juice after fillet. The key to this dish is dipping sauce.which is a tamarind sauce with chilly and garlic. A serving for 2 people is around 130k
Ốc Vú nàng
Ố Vú Nàng is a a delicacy that can only be found in a few beach town in Vietnam. They are sea snails that come in an oval shape with a pointy tip. It explains why locals call it Lady Bosom Sea
Snails. They can be grilled, made into salad, but the most common way to enjoy it is to steam them with lemon grass to preserve the sweetness.
Banh Khot Vung Tau
Banh Khot, also known as crispy savoury pancakes or coconut rice cake or simly, delicious bite-sized treat, stole the hearts of locals and foreigner alike. It is made from a more hearty rice mixture compared to Banh Khot and comes in much smaller size. A hint of turmeric gives them a beautiful yellow tinge, and mixed together with coconut milk to make it extra creamy and rich.
It is served with green on the side and sweet fish sauce dipping. Make sure to roll them in the mustard leaves for a slight kick and to balance out the richness in every bite.
What to do in Vung Tau
Con Dao
200km off the coast from Vung Tau is Con Dao. Con Son is the largest of 15 islands that made up Con Dao Archipelago. Unspoiled nature and long stretch of crystal clear beach creates an ideal ecosystem for a rich biodiversity, including the endangered sea turtles. If you come at the right season of the year, you can watch little baby turtle crawl out of their shell and towards the sea.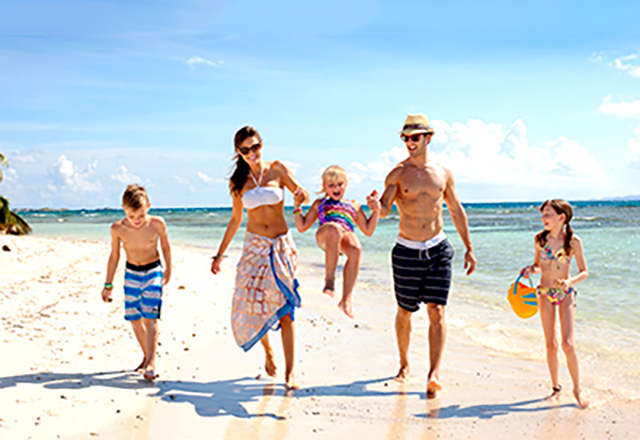 Thich Ca Phat Dai Pagoda
The Pagoda resides on the north side of Tuong Ky Mountain. The architectural complex features giant Buddha statues with the tallest one sitting at 11,6 metres. It is a perfect place if you're looking for some peace and quite from the city life.
O Stream
The stream is on the way leading to Binh Chau hotspring in Binh Chau, Xuyen Moc. The water is shallow so don't worry if you cannot swim. The beach is only 30 metres away.
Don't forget to try fresh seafood at thatched seafood restaurants scattering along the coast.
Where to stay in Vung Tau
There are a few options when it comes to accommodation. There are hostels for those on a budget and even high-end resorts if you're looking for a treat.
As it is close to Saigon, locals flock there on weekend so they can get back to work the next week. Booking in advance is recommended but worst case scenario, pitch a tent on the beach.
Media Coast, My Le, The Imperial are amongst the higher end hotels ranging between 400k to 1mil for one night.
Guesthouses along Hoang Hoa Tham street are cheaper.
3. Can Gio
Can Gio is the only beach southwards from Saigon.
Can Gio, notable for its extensive mangrove forest is known as 'the lung of the south'. The beach of Can Gio was formed from silt washing downstream from the river, so don't expect any white-sand beaches or even clear water.
Regardless of its brown-ish beach, Can Gio has cheap and good seafood.
How to go to Can Gio
Can Gio is only 40km from Saigon. You can either take a car or a motorbike to reach there
• Motorbike: from Saigon, head towards Tan Thuan bridge which will take you on to Nguyen Van Linh Boulevard. Head to Huynh Tan Phat to reach Binh Khanh Ferry. Continue straight forward to Can Gio
• For Bus: Starting from 23/9 park, take bus no.20 to Nha Be and stop at BInh Khanh Ferry. Continue on bus no.90 to Can Gio.
What to eat in Can Gio
Can Gio might not have the best beach but it sure does have one of the best an cheapest seafood
BBQ 'Iron' Shrimp
'Iron' shrimp is known for their tender and sweet meat. Their shell is tough,hence the name 'iron'. BBQ is the best way to go. Dipping sauce is made with local green chilly and salt and pepper.
Steamed Crab
Crab are fresh out of the net before going into the pot. Locals take pride in their juicy and luscious crab meat. Better when paired with a cold pint!
Sea snails
Winkle is a species of small edible sea snail and is one of the local's delicacies.It takes certain level of culinary skills to get rid of the bitter taste inside of the snails. Once you get rid of the bitterness, steamed them with lemon grass and dip in sweet and sour sauce.
What to do in Can Gio
Monkey Island
This island is home to a monkey sanctuary, which houses at least a hundred wild but unafraid simians. Be careful whilst visting because the line between cheekey charmer, thieving pest and dangerous beast is ever so fine. Hold on to your possessions!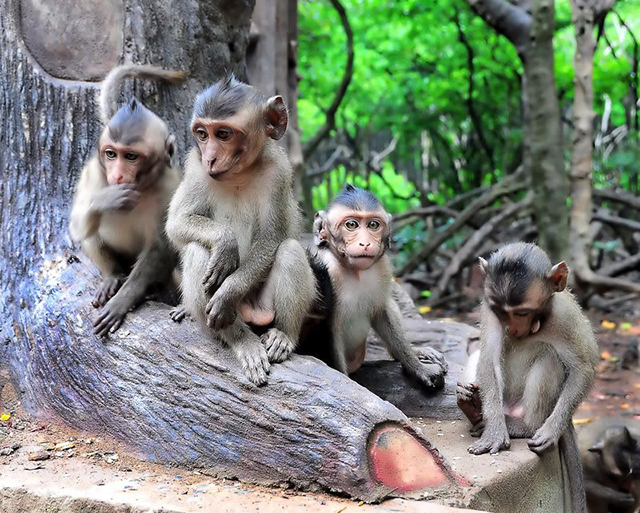 Vam Sat Salt Marsh Ecological Tour
Vam Sat is a great choice for those that want to venture into the wild. During resistance war against American invaders, Vam Sat was destroyed by bombs and defoliants, yet it's now having the most gorgeous world biosphere reserve of mangrove forest, thanks to a reforestation program launched in 1996.
Visitors here can explore Bat Swamp to fish for crab or spot for flying foxes hanging from the tree branches, and there's a crocodile farm where you can take a boat tour and toss fish treats to the hungry reptiles. A 50-foot-tall wildlife observation tower offers a great vantage point for birdwatching or taking panoramic pictures of the marsh wilderness
Where to stay
Accommodations are budget-friendly ranging between 200 – 400k per night
4. Ho Tram
Ho Tram lies between Binh Chau and Long Hai which belongs to Ba Ria – Vung Tau Province.
Ho Tram's pristine, undeveloped beachfront sits at just 2 hours from HCMC by car or 90 minutes via the ferry from HCMC to Vũng Tàu.
The area has moderate weather all year round, making it an ideal spot to travel to whenever you want to escape from the busy city.
How to get there
Motorbike, bus, car, or hydrofoil.
• Motorbike: Aim at QL51 t Ba Ria Vung Tau. Get on QL55 after.When you reach Xuyen Moc from Ba To market, there will be a sign that leads to Ho Tram – Ho Coc.
• Private Car: Follow QL51 to Long Thanh – Dau Giay expressway to reach QL51. It will take you onto DT44B which will reach Ho Tram/
• Bus: You can find buses that run from Mien Dong Bus Station to Vung Tau. The bus station is located in Binh Thanh District.
• Hydrofoil: It only takes 90 minutes to reach Ho Tram by hydrofoil. Tick for adult is 200k and 100k for children.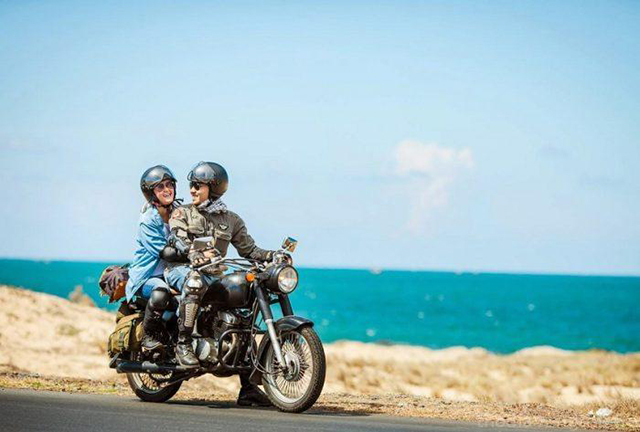 What to eat
Seafood at Cho Luoi market is popular and cheap.
Seafood are fresh out of water and will be cooked on the spot. The restaurants will cook them however resquested.
What to do in Ho Tram
There are hotspring and parks for you to visit
Binh Chau Hot Spring
It is only here that you and your loved ones can enjoy uninterrupted peaceful moments while soaking in the fresh mineral stream to re-calibrate both body and mind. There's massage centre, mud bath, and so on.
Rừng Nguyên Sinh Bình Châu – Phước Bửu
Binh Chau-Phuoc Buu Nature Reserve is one of the few areas along the coastline of Vietnam to retain a significant cover of natural forest.
Forest in the nature reserve covers 7,224ha including 158 ground cover species , 147 timber species, 73 climbers species, 29 bushes species, 23 epiphytes species, 14 orchids species. The nature reserve also supports 49 species of mammal, 106 species of bird, 38 species of reptile and 12 species of amphibian. These include several globally threatened and near-threatened species, such as
Bear Macaque, Siamese Fireback and Pale-capped Pigeon…
Where to stay
Ho Tram has a few high end resorts.
Sanctuary Ho tram Resort Community, Ho Tram Beach Resort and Spa, Sao Mai boutique Villas are amongst those that include swimming pool, tennis court, the whole pakage.
Mid-range for more budget-friendly travelers are hotels like Huong Phng, Ven Ven.
5. Ho Coc
Ho Coc is similar to Ho Tram. The beaches are the main tourist spot.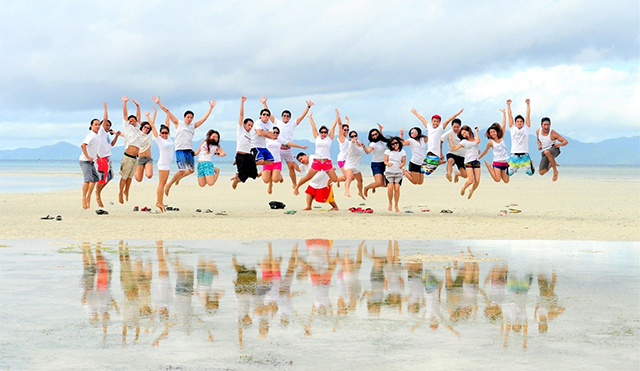 Di chuyển đến Hồ Cốc
You can go to Ho Coc on a motorbike, private car, bus.
Motorbike: Follow the same direction towards Ho Tram and keep on driving starigh. Ho Coc is only 5km away
Bus: Tickets to Xuyen Moc is available at Mien Dong Bus Station. The ride to Xuyen Moc is about 3 hours. Once you're at Xuyen Moc, take a bus to Binh Chau and find a local driver or "xe om" to take you to Ho Coc.
Hydrofoil: The trip will start from Bach Dang Ferry Terminal and ends at Cau Da market in Vung Tau. Find a 'xe om' to take you to Ho Coc.
What to eat
Ho Coc has very few local restaurants. Most are in resorts and hotels. Try the seafood there, including shrimp, crab, seasnails, etc.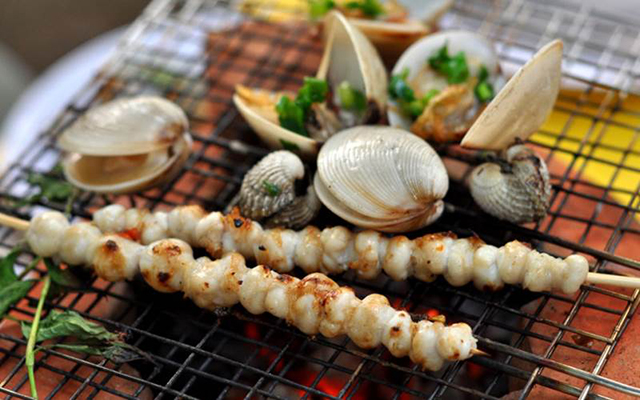 Fresh seafood are sold at Phuoc Hai Market. They will be cooked on the spot.
What to do in Ho Coc?
There are beaches and hot springs
Ho Coc Beach
Unspoiled beach with great nature is what makes Ho Coc popular. The sea is more calm compared to other beaches.
Suoi Nghe Sheep Hill
Located in Suoi Nghe, Chau Duc, Vung Tau, the Sheep field resembles a nomadic picture in the Mongolian highlands. With wild beauty and quite characteristic, rarely seen in Vietnam, the Sheep field has been pleasing tourists from all over the world.
Where to stay
There are a few selections from budget friendly to high end.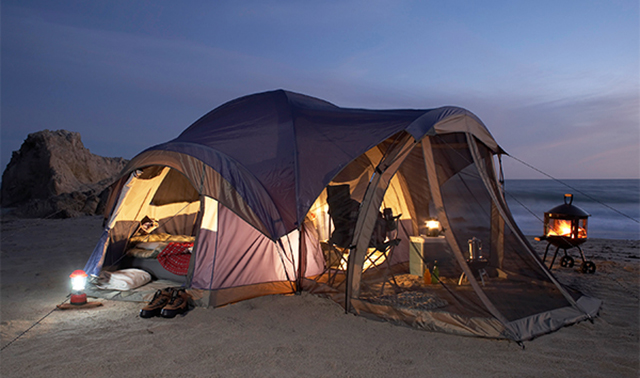 There are campground if you bring your own tent. Some guesthouse rent out tent too if you don't have any.
6. Mui Ne
Mui Ne is about 200km from Saigon or 14km from downtown of Phan Thiet. Mui Ne offers great beaches and white sandunes.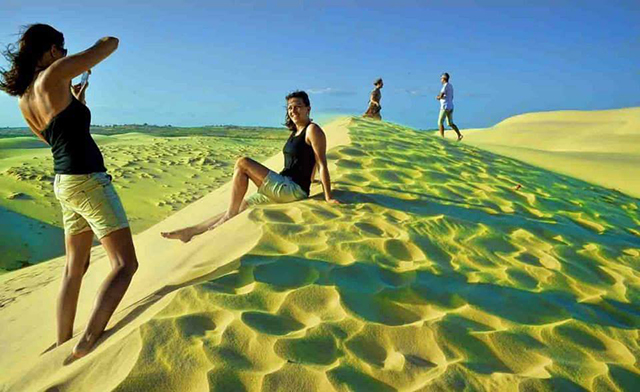 Mui Ne is popular to locals and tourist alike. Its main attraction are palm-lined stretch of sand and clear beaches.
How to reach Mui Ne
Bus: Tickets are sold at Mien Dong bus station and are between 90 – 130k depends on the bus line.
Train: You can go to Mui Ne by train from Saigon train station. Ticket is between 110 – 160k.
What to eat in Mui Ne
Mui Ne offers both western and Vietnamese cuisine
Flower Crab
Flower crab is a local delicacy. It is steamed or boiled with beer and dipped in sweet and sour fish sauce mix.
Grilled Scallop
Scallops are grilled and seasoned with "mo hanh" which is a rich mixture of scallion and oil. They are then drizzled with a handful of toasted peanut. Served with salt and peper and lime.
White Sardine
White Sardine Salad Roll is known for the aroma of fresh fish paired with fresh herbs and peanuts to top it off.
White sardine is marinated in a mixture of ginger, lemon grass, onion, lime juice after fillet. The key to this dish is dipping sauce.which is a tamarind sauce with chilly and garlic. A serving for 2 people is around 130k
What to do in Mui Ne
Hon Rom Island
The island is the outermost point of Mui Ne, has been given a Straw Island because the color of the special species of grass on grown on the island. There are two beaches on Hon Rom Island: Hon
Rom 1 and Hon Rom 2 with the total stretching length of 17 kilometers long. The two beaches have pristine beauty and serene atmosphere which other beaches in Mui Ne don't..
Đồi cát Bàu Trắng
Bau Trang or White Sand Dunes is about 27 kilometers north of Mui Ne town. From afar, Bau Trang looks like an oasis in middle of a white desert. The lakes in Bau Trang are the only two freshwater lakes in Binh Nhon commune. You can ride a jeep car or go sand sliding.
Mui Ne fishing village
Mui Ne Fishing Village lies at the north of Mui Ne Bay which is about 7 kilometers from Mui Ne Town. Visiting Mui Ne won't be completed if you miss this incredible place. From the coastal road leading to Mui Ne town, you can easily see the blue, protective bay dotted with almost hundreds of fishing boats.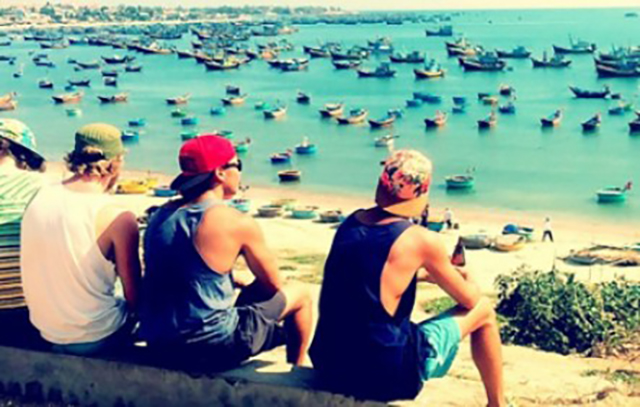 You can come here during sunset for great photos of the children playing on the beach, fishermen preparing and sorting out their nets for another catch of the night.
Where to stay
There are a lot of options when it comes to accommodation. Hostels and guesthouse for backpackers are scattered along the main street of Nguyen Dinh Chieu.
Others are on Huynh Thuc Khang street.
7. Doi Duong
Further down the coast from Mui Ne is Doi Duong.
Doi Duong is part of PhanThiet and has moderate weather. It is little affected by monsoon season. It gains the name Doi Duong because it used to have a lot of poplars.
How to go to Doi Duong
You can choose motorbike or bus
Motorbike: it is the more popular choice for both locals and foreginers.
From Saigon, follow QL1A towards Phan Thiet. Find Nguyen Tat Thanh street then onto Le Loi. The end of Le Loi is where Doi Duong is/
Bus: Loads of bus line runs trips to Phan Thiet daily. Ask them to drop you off at Doi Duong. Tickets is around 210k for one way.
What to eat
Like any other beach town, don't forget to try seafood.
Địa điểm vui chơi, tham quan ở Đồi Dương
Bãi đá Ông Địa
Bai Da Ong Dia is only 15 minutes away from Doi Duong. It has odd rock formation and as good view of the beach.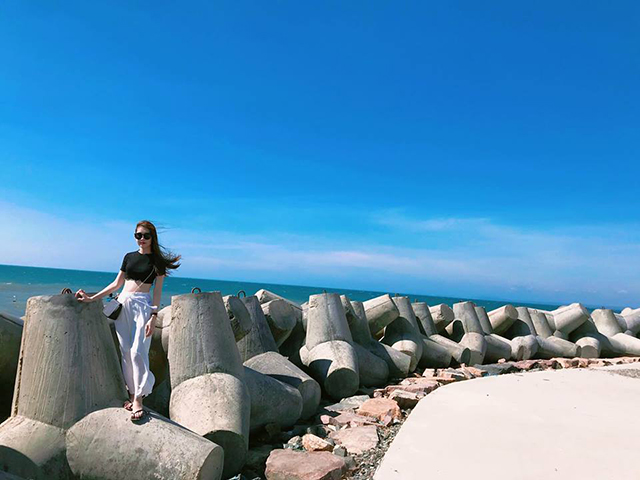 Where to stay
Like Mui Ne, there's a lot for you to choose from. There are budget friendly and high end accommodation.
8. Con Dao
Isolated from the mainland, the Con Dao islands are one of Vietnam's star attractions. Con Son, the largest of this chain of 15 islands is ringed with lovely beaches, coral eels and scenic bays, partially covered in tropical forest.
Long the preserve of political prisioners and undersireables, they now turn heads thanks to their striking natural beauty.
How to get there
Flight: It is less than an hour flight from Saigon to Con Dao. It is a ATR72 which is a short-haul regional airline.
By bus: Saigon – Vung Tau – Con Dao
From Mien Dong bus station, leave for Vung Tau. It is a 2 hour ride.
Once you're in Vung Tau, you can choose either of these 2:
Hydrofoil from Con Dao express will take 3,5 hours. Weekdays us 600k/ticket/trip, weekend is 800k/ticket/trip
Or you can take a speed boat from Cat Lo Port from Vung Tau. It is 12 hours long and cost between 400k – 530k/tick/trip
What to eat?
There's a lot of good and cheap seafood for you to try. Don't forget to try their Muc Mot Nang and lobster.
What to do in Con Dao
Côn Đảo chẳng hề thiếu chỗ chơi, bạn có thể tha hồ khám phá hòn đảo này với nhiều địa danh nổi tiếng:
• Dam Trau Beach: considered best beach on Con Son with white fine sand beach a clear water.
• Bãi An Hải: Fringed by palm trees and overlooked by green mountains, this beach is dotted with the only beachfront accommodation on the island
• Bay Canh Island: The archipelago's second largest island has an area of 683 hectares, mostly covered by rainforest full of rare species, as well as some mangrove forest. It also has the most sea turtles laying eggs.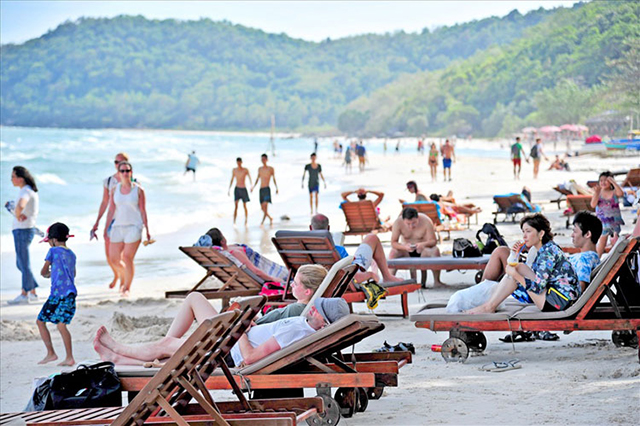 Where to stay
There's a lot of hotels and guesthouse there. Book in advance if you go on weekends.
9. Phú Quốc
Phu Quoc Island boasts idyllic beaches, romantic sunsets, evergreen forests, and a serene atmostphere.
Located 45km west of Ha Tien in the far south of Vietnam, the northern part of the island is relatively untouched due to its status as a UNESCO-listed national park but there are plenty of luxurious resorts, bars, and quaint cafes along the southern coastline.
How to get there
Flying – the quickest way
It is less than one hour to reach Phu Quoc from Saigon via plane. Vietnam Airlines, JetStar,Vietjet all have direct flights to Phu Quoc
Bus and Bat for the adventurous
Take a bus from Saigon to Rach Gia or Ha Tien. Big bus line like The Sinh Tourist or Futa have daily trips there. Speed boat ticket is 330k if you leave from Rach Gia or 230k if you leave from Ha Tien.
What to eat
Sardine salad
Sardine are fresh and is season with locals ingredients including the infamous Phu Quoc fish sauce.
Coi Bien Mai
Coi Bien Mai is a local sea snail. It is best BBQ and served with chilly dipping sauce.
Cá Sòng Phú Quốc nướng
They say you haven't been to Phu Quoc if you haven't eated Ca Song. It look like tuna at first glace but smaller. They're jack mackerels. Grilling them is the best way to enjoy them.
Địa điểm vui chơi, tham quan ở Phú Quốc
Hang Dơi – Phú Quốc
Here you will find a few large sandstones crevices that have a small colony of bats. They are given the name Hang Doi which means Bat Caveby the local.
Sao Beach
Sao Beach is that 'postcard perfect' beach most travelers are searching for. In the ocean you will find schools of small fish, and sometimes even a small squid. In September and October you will find a lot of starfish near the shore.
Dai Beach
Bai dai Beach is located on the north west of the island, up to 15km in length. The white sand stretches, the blue sea as jade stretches to the horizon in the golden sunshine.
Where to stay
Lots of accommodation ranging from guest house, motels, to 5 star resort.
10. Nha Trang
Nha Tran is recognized as one of the most famous coastal citie in Vietnam. With breathtaking sceneries, beautiful beaches and historical sites, you could be in for a great time. It's ringed by a necklace of hills, with a turquoise bay dotted with tropical islands.
Best time to visit is January to September.
How to get there
You can get to Nha Trang by plane, train, bus, or motorbike.
Flight
Flight remains the fastest way to reach Nha Trang. Vietnam Airlines, jetstar, Vietjet all have direct flights from Saigon.
Train
Train is a experience worth trying. You can choose hard or soft seats, to beds.
Bus
Bus is the cheapest one which cost less than 250k/person/trip.
Motorbike
Motorbike is still the most fun way to travel.
You can follow the coast from Vung Tau to Phan Thiet, Cam Ranh, Vinh Hy, then Nha Trang. Or you can go Dong Nai to Da Lat for a bit of mountain then mountain to coast heading towards Nha Trang.
What to eat
Nha Trang Fish Cake
It's what Nha Trang has to offer as you cannot find something elsewhere as good. It is usually served in banh mi or noodle and broth.
Ninh Hoa Nem
Nem is long strips of bbq pork. They are served with lots of herbs on the side and a special dip made from shrimp powder. Add some raw garlic to your roll for an extra kick.
What to do in Nha Trang
Swimming, hiking, water sports are amongst the many things you can do in Nha Trang
The Four Islands of Nha Trang
Binh Ba, Binh Hung, Binh Lap, Binh Tien are the famous four. You can do a day trip of island hoping. Don't for get to try their seafood after a long day of swimming.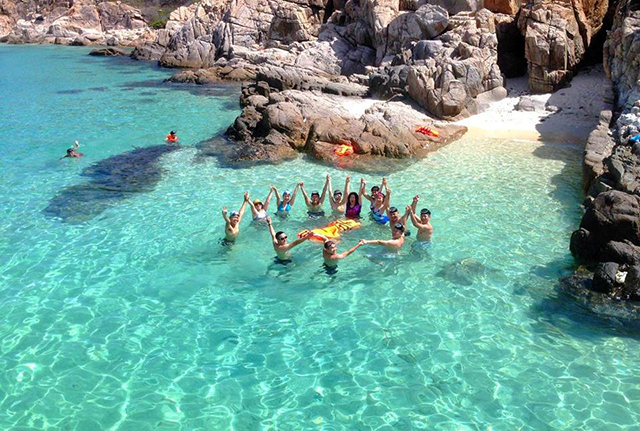 Diep Son Island
Lying in the calm, warm waters of Van Phong Bay, 60km from Nha Trang, Diep Son is a mini-archipelago of small greeb islands. Diep Son path is submerged under the sea and only visible when the tide is low, gaining it the name 'the road that floats in the middle of the ocean'.
Where to stay
Nha Trang has everything for local guest house to resorts. Homestay is also an option if you want a more authentic experience. April to August are the high season so booking in advance in recommended.