Discover Ho Chi Minh motorbike tour
Discovering Vietnam on a motorbike makes the trip so much more interesting. This is the reason why more and more young people choose this form instead of traveling by car.
Participating in a Ho Chi Minh motorbike tour brings you interesting experiences.
If you travel by motorbike, you should bring all the license papers and obey the traffic laws. In addition, you should bring a spare gas bottle to prevent running out of gas in areas where there is no petrol station.
When is the best time to go to Saigon?
Unlike Hanoi, the weather in Saigon is divided into 2 distinct seasons: dry and rainy seasons. But the sunshine of Saigon is not strong, the rain does not last too long. Therefore, you can come to Saigon at any time of the year because this is a vibrant, bustling city all year.
To make your trip more meaningful, you should come to Saigon on the occasion after Tet (around February, March) to join the biggest full moon festival in Chinatown in January.
Where should you stay in Saigon?
Luxury hotel in Ho Chi Minh City
There are many hotels, motels which are affordable or high-end, monumental modern in Saigon with prices ranging from 200.000 VNĐ to several million per room. But you should choose to stay near the places to visit with good security. Especially, you should call and ask for a room price in advance to avoid running out of room on the peak months.
You can choose hotels in the center on Nguyen Trai, Le Thanh Tong Street, Ben Thanh market area, Pham Ngu Lao street…
Below is a list of beautiful hotels in Saigon with good service quality, interior, facilities that are highly appreciated from customers:
Bali Boutique Hotel is located at 82 Bui Vien, Pham Ngu Lao Ward. The lowest room price is about 23 $ (after the discount). The furniture is quite nice. This is a small, cheap hotel that is the top favorite when coming to Saigon by many tourists.
Halo Hotel at 23 Thu Khoa Huan Street, Ben Thanh Ward, District 1 is also a super popular hotel, which is highly appreciated by travelers. Hotels with good breakfast (free), rooms are also quite good with the lowest price of 26 $. Especially in the extremely convenient location, the number of travelers booking in Halo Hotel is extremely large.
Ipeace Hotel at 175/8 Pham Ngu Lao Street, District 1. Service quality here is very good value for money (lowest 17 $). This cheap hotel in Saigon also received much good feedback from customers.
Golden Central Hotel Saigon is located at 140 Ly Tu Trong, District 1, a 4-star hotel with full services: Swimming pool, cafe, gym, spa, massage, sauna with very nice and modern furniture. The service attitude and food are also appreciated with many discounts. The cheapest price around 62 $, this is a popular mid-range hotel.
Oscar Saigon Hotel at 68A Nguyen Hue Boulevard, District 1: Not only is it highly rated, this hotel is also very popular with the guests' food and garden. It also offers most facilities like Golden Central but does not have a pool. The lowest price of about 75 $.
Where are the place to visit in Saigon?
Saigon has many ideal destinations for you:
Main areas of Saigon tourism
Along the Saigon River
Saigon Notre Dame Cathedral
Nguyen Hue Street – District 1
Ben Thanh Market
Famous places in Saigon
The famous tourist destinations in Saigon you should not ignore such as:
Reunification Hall (Independence Palace)
Independence Palace – the symbol of Ho Chi Minh city
Address: 135 Nam Ky Khoi Nghia, Ben Nghe Ward, District 1
Opening hours: 7:30 am – 11:00 am, 1:00 pm – 4:00 pm (daily)
Ticket price: Adults: VND 30,000/person /time, students: VND 15,000/person/ time, students: VND 3,000/person/time, guests from groups of 20 will receive a one-third discount of the ticket price.
This project is designed in modern architecture. You will admire the evidence of oil independence moment of the nation on April 30, 1975.
Notre Dame Cathedral
Notre Dame Cathedral one of famous destinations
Address: Số 1 Xã Xã Paris, Bến Nghé Ward, District 1.
Opening hours: Visit: 8:30 am – 10:00 pm, 2:30 pm – 3:30 pm (Monday – Friday)
Time for Mass: 5:30 am, 5:00 pm (Mon-Fri), Sunday: 5:30 pm, 6:30 pm, 7:30 pm, 9:30 pm (for foreigners), 4:00 pm, 5:00 pm, 6:30 pm.
Places to visit in Saigon that you should visit are Notre Dame Cathedral – the symbol of Saigon city. The church is designed with European architecture along with gorgeous Roman and Gothic styles.
Ben Thanh market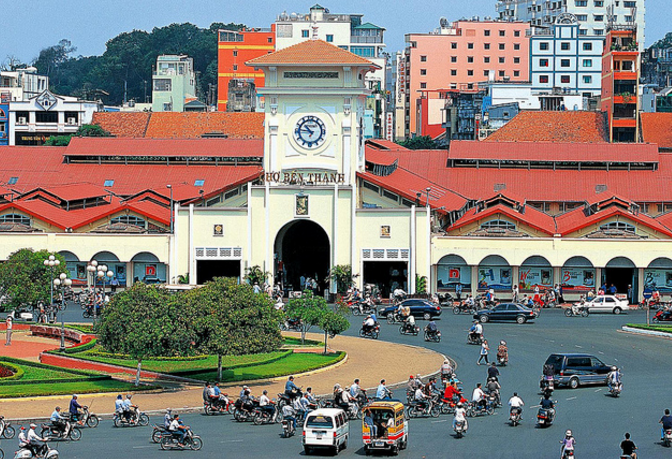 Ben Thanh market – the biggest market in Ho Chi Minh City
Address: Located between Phan Boi Chau – Phan Chu Trinh – Le Thanh Ton – Quach Thi Trang Square, Ben Thanh Ward – District 1.
Opening hours: 7:00 am – 7:00 pm daily
Notes when traveling to Saigon by motorbike
When traveling ho chi minh motorbike tour, please bring the necessary identification. You should bring all vehicle documents, clothes, shoes, medicines and some necessary personal belongings.
Traveling to Saigon, you can go at any time. Because the climate is cool and cool all year round. You will discover many famous sights and historical places.
Stylemotorbikes will give you a safe trip, which helps you discover and fully feel the beauty of the country and people of Vietnam. We hope that this article has provided you with the most useful information for your trip more interesting.