Drive motorbikes from Hue to Da Nang
Are you keen on traveling and discovering? You always want to have a backpacker trip by motorbikes. You know, we have many posts introduce backpacker trips by motorbikes, which you can read in our blog. And in this post, we provide another suggestion, a trip from Hue to Da Nang by motorbikes. This is occasion you when you can discover dreamlike Hue ancient capital and the worthiest living city in Vietnam, Da Nang city.
Distance from Hue to Da Nang
Hue is about 100km from Da Nang so it will only take you from 2 hours to 2 hours and 30 minutes to travel by motorbike. A fairly close distance and convenient for a motorbike trip. Along the National Highway 1A from the center of Hue city, you will move about 65km to Lang Co town. Here you can choose two options, one is to go through the pass takes about 45 minutes or you can go through the tunnel only takes 20 minutes to reach Da Nang city.
Hue – Danang backpacker by motorbike over the pass
If you follow the Hai Van Pass, you can stop and rest at the back of the pass to admire the beautiful scenery of Lang Co, Hai Van … This will surely be a very interesting experience. However, moving this section yourself must be very careful and careful because of the situation of robbery. Absolutely not go in the morning too early or too late because it would be unsafe.
View of the road from Hue to Danang
If you are a tourist who does not have a motorbike, you can contact us to rent a car at Stylemotorbikes.com.
Read more The Best Routes – The Hai Van Pass
Hue – Danang backpacker by motorbike through the Hai Van tunnel
If you are afraid to go the mountain pass, you can go to Hai Van tunnel. If you take the tunnel, drive to the tunnel and park your motorbike at the office of the Hai Van Pass Tunnel Management Office. The truck will take your motorbike to the other side of the hatch, and you will take the transfer bus and take the car back at the other hatch.
Hue – Danang backpacker by motorbike through the Hai Van tunnel
Roadmap
Roadmap from Hue to Da Nang
The outstanding attractions
In Hue:
Coming to Hue, people do not expect to have lush beaches or the bustle of a modern city. Coming to Hue is coming to culture and history. Hue gives people peace, nostalgia. Hue is beautiful and sweet from humans to landscapes
Thien Mu Pagoda
Coming to Thien Mu Pagoda, visitors not only enjoy the ancient beauty and poetic beauty of the Huong river but also listen to the people retelling legendary stories and myths about the politeness of erecting pagodas and stories resentment of lovers, … in order to better understand the miracle of this land.
The famous pagoda in Hue – Thien Mu pagoda
 Hue Citadel
Hue Citadel is a historical centre, unique architecture in the complex of Hue historical monuments, recognized by UNESCO as a world cultural heritage on 11-12-1993. The Imperial Citadel of Hue including Hoang Thanh and the Forbidden Purple City is now in Thuan Thanh ward, Hue city. From the Citadel, visitors can visit nearby points such as Trang Tien Bridge, Dong Ba Market …
Hue Citadel was recognized by UNESCO as a world cultural heritage on 11-12-1993
Khai Dinh mausoleum
As the tomb of King Khai Dinh, this is a massive architectural work, unique in both scale and artistic architecture, which has attracted many visitors. With a harmonious blend of royal architecture and Western architecture has created diverse beauty, eye-catching.
This is a massive architectural work, unique in both scale and artistic architecture
 Khai Dinh mausoleum with a combination of ancient features and breaking lines in modern architecture, a mixture of Asian, Western and Vietnamese architecture has attracted many visitors. Besides, the Mausoleum is located in a pristine, spectacular natural space of Chau E mountains, creating a quite special picture.
Huong River
The Huong River originates in the Truong Son mountain range, along small streams then is located on the ancient Hue Citadel. It is from weaving in the forests that the water has brought the fragrance of plants and trees to Hue, since then the river has been named Huong Giang.
Huong Giang, the river brings beauty, soul and culture of a country of origin. Huong Giang lineage is like a tender, loving Hue girl, with four smooth seasons bringing silt, bringing fresh water to irrigate the fields and beautifying her land.
Poetic beauty of the Huong river
 Coming to Huong River, visitors can sit on the leisurely yacht, enjoy the peaceful scenery in Hue. Especially at night, visitors can just listen to the folk songs while watching the shimmering city at night, just drop your soul along the floating water, visitors will feel like your alive again in the old kingship.
Hue city is more beautiful thanks to the Huong River, and Huong Giang really belongs to this place…
Refer to Reviews of the journey from Hue to Hoi An by motorbike
Truong Tien Bridge/ Trang Tien Bridge
Truong Tien Bridge, also known as Trang Tien Bridge. Because the bridge has a length of 402.6m, there are 6 spans of steel beam opposite. Considered one of the symbols of dreaming Hue. Coming to Truong Tien Bridge, visitors are not only allowed to visit. Admire the poetic Perfume River and the bustling city scenery, but the curve is heard and learned about the historic hardships. That bridge has experienced in two resistance wars against French and American invaders. There is a new understanding to know the fighting bravery of our people and stupidity. Realistically defiant with the age of the bridge. Since then, we feel ever prouder.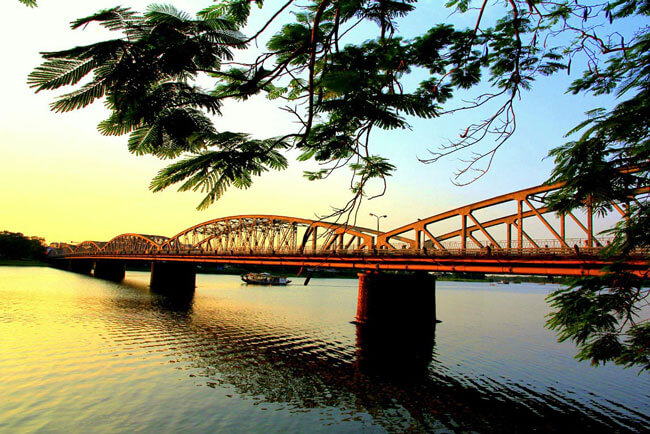 Truong Tien Bridge – architecture and culture symbol of Hue
In Da Nang
Son Tra Peninsula
Son Tra is the name of a mushroom-shaped peninsula in the territory of Sơn Trà army. This territory is located 10km northeast of Danang city centre. With three sides bordering the sea, the other facing the municipality, Son Tra is the total of the only natural forest ecosystem attached to the sea in Vietnam. Coming here, tourists really experience the feeling of "going to the forest to the sea" and visiting Tien Sa lighthouse, Linh Ung pagoda and panoramic view of beautiful Da Nang city.
Son Tra is a famous peninsula in the past and the moment
 According to people here, the peninsula is the green lung of more than four million people, is the freshwater bag that supplies the city and underground water in the whole of Da Nang and Hoi An. Son Tra peninsula is recognized as a pearl, a treasure that nature bestowed on Danang. In addition to its biological value, it also has an important role in security and defence. On top of Son Tra is the radar system of the military and aviation with the ability to cover the airspace and the East Sea. During the war, Son Tra was dubbed the "Indochina eye". In modern times, this is the most important deep-water commodity in Central Vietnam, bringing many economic benefits
Ngu Hanh Son (Marble Mountains)
Only 7km from the city center, the Marble Mountains is the ideal place for those who love to explore the mountains, like to conquer the steep crags. This place is called Ngu Hanh Son because it is blessed with nature for six mountains, respectively named Kim Son, Moc Son, Thuy Son, Hoa Son (with two tops), Tho Son, located amidst an immense sand dune, the waves crash year-round. In addition, this is also the place that attracts many Buddhists to visit because there is a system of temples, pagodas and caves such as Tam Thai Pagoda, Huyen Khong Cave, Eastern Am Phu …
 Spiritual tourism in Danang 
Ba Na Hill
Another place not to be missed when coming to Danang is Ba Na Hill – known as the road to the foreground. Ba Na Hill is located in Hoa Ninh commune, Hoa Vang district, 40 km southwest of Danang. At an altitude of 1489m above sea level, Ba Na Hill has 4 separate seasons in a day. It is morning spring, noon – summer, afternoon – autumn, evening – winter and always dry because it rarely rains.
Ba Na Hill is an attractive destination in Danang
 Ba Na Hill has Fantasy Park entertainment area to meet the entertainment needs of all ages. Not only that, but visitors also have the opportunity to conquer the delicious dishes of Asian and European style here. Coming to this place, you will have the opportunity to experience exciting and new moments with your relatives or friends. The scenery, the food, the atmosphere, all these things will impress and remember this place forever.
Bridges
Da Nang, the city of the bridges. The poetic Han River, stretching across the modern city, has made the city romantic and beautiful. Is that why Da Nang is very fond of this river, building so many bridges, splendidly decorated as bows, flowers installed on the shiny hair of the river? All peaceful, beautiful. Dragon Bridge, Tran Thi Le Bridge, Thuan Phuoc Bridge … with colourful lights, sparkling reflection on the river surface, attracting many walks. Bridges are a favourite place for young people to take photos and have fun.
Da Nang is famous for many beautiful bridges
We have just shared with you a few things to know for a trip from Hue to Da Nang by motorbike. Our sharing hope to be helpful to you. Make your trip convenient, safe and enjoyable.