Hanoi to Mai Chau by motorbikes
If you don't have time or enough money for a farther trip like Ha Giang, Lao Cai… but you still want to see imposing mountainous scenes want to deep into jungle life of the North West people. Mai Chau is a good choice for you. There is not too far from Hanoi, you just need to spend three or four hours moving from Hanoi to Mai Chau and can enjoy the beauty of the mountainous area. Surrounded by imposing mountains, Mai Chau valley always has cool and fresh climate. You can't ignore there if you want to hide the hot summer in Ha Noi.
To help you prepare to better for your trip, we give you some remarkable information.
The road from Ha Noi to Mai Chau by motorbikes.
Motorbike is quite suitable for this trip because it's more than 100 kilometres, not too far. This is an ideal road for you to drive motorbikes. In addition, the quality of the road is good so you can easy to control your bike. However, when come to pass road you need to concentrate on driving on the right lane and keep your safe speed cause pass way here quite oblique.
We will give you two suggestion roads what you can refer to.
Road 1: Center of Ha Noi – Nguyen Trai Street – Ba La (Ha Dong) – Xuan Mai – Highway 6 (QL6) – Thung Khe pass – Tong Dau crossroads – Mai Chau
Road 2: Center of Ha Noi – Tran Duy Hung – Thang Long Boulevard – Xuan Mai – QL6 – Thung Khe pass – Tong Dau crossroads – Mai Chau
In addition, if you want to try the more tortuous roads, you can follow Bai Lang street. Follow this route you will have the opportunity to see the entire mountain landscape. However, to travel safely on this route, you need to pay careful attention no matter how good your driving ability or how much experience you have on hilly roads.
Notes when travelling from Hanoi to Mai Chau by motorbike
Stay on the right lane:
The road to Mai Chau is meandering, with many bends and many steep sections, so there are many large vehicles passing by. In addition, the terrain here is rugged, one side is the mountain, the other is a valley, so if something goes wrong, it will be very dangerous for you. So if you do not control the steering wheel, you can easily encroach into the opposite lane, especially the Cun ramp and Thung Khe pass.
Stay at the right speed
A large part of the distance is the boulevard, the national highway, the complicated traffic sections, and many police posts, so you need to pay attention to the right speed to avoid the problems that hinder your schedule. Besides, the mountain pass that you need to go through is also potentially dangerous, there are many large vehicles passing by such as trucks, container trucks, or there are many other tourist groups like you. Therefore, maintaining a permissible speed will help you avoid unexpected accidents along the way and traffic police.
Pass road in Mai Chau
Pay attention to honk, obscure visibility
Because it is a hilly road, there are sections where you are blocked from view by high mountains. Although there are protruding mirrors to assist you in the observation, for safety you should still pay attention to honk to signal the vehicle in the opposite direction as well as other vehicles.
Climbing the pass and downhill the same number
When travelling, you should choose to go with gearbox motorbikes. They will be better and more suitable than scooters in this case. With gearbox motorbikes, you need to note the number of passes, then down the pass by that number. Some of you don't know this, so when it's downhill it's easy to stop braking, it's easy to plunge into the abyss …
Limit walking at night and foggy weather
Because it is surrounded by large mountains, the Mai Chau valley at night and in the evening is usually quite dark and foggy, even with the rain. If possible, avoid these times, don't move in the dark, or rain or fog. If it is imperative to move at that time, remember to turn on the headlights and do not forget to honk to signal other vehicles, to avoid unnecessary accidents that may occur.
Schedule when coming to Mai Chau
We will send you suggestions for a two-day-one-night tour of the Mai Chau valley.
The first day
You move from Hanoi to Mai Chau according to the route we suggested above. On the way, you can stop by Hoa Binh hydropower lake to admire the scenery. In the last days of the year, the road along the lake becomes extremely beautiful and romantic with rows of trees changing leaves, glowing.
The road along Hoa Binh hydropower lake
Then continue to move, the delegation will go to the foot of Thung Khe pass. Come here, you can stop for lunch at the white rock mountain. This is a stop that attracts a lot of young people to come here to check-in. Here, you can admire the majestic scenery of the mountains and take beautiful photos with the scene of white-mountain and enjoy the specialities of the locals for sale here.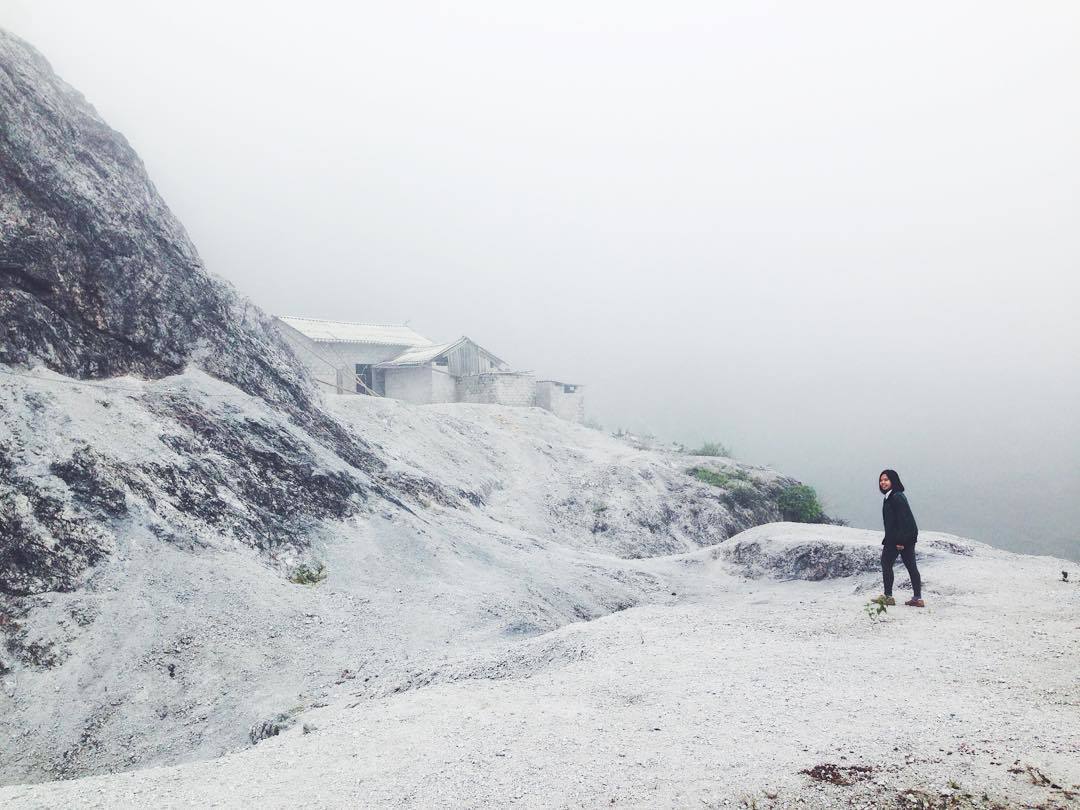 The white-mountain in Thung Khe pass
At the beginning of the afternoon, you will reach Lac Village. Here you can rent a hostel or homestay. There is a strong tourism development here, so it is not difficult to find a place to rest. If you go on a regular day you can come and book directly but if you go during the peak season you should book in advance to ensure that you will have a place to rest.
Depending on the purpose of the trip, if you travel, you can choose to stay at some hotels in Mai Chau such as:
Sol Bungalows – Chieng Chau Village, Mai Chau, Mai Châu (Hoa Binh) – price $106
Mai Chau Villas – Cha Lang Village, Mai Hịch, Mai Chau, Mai Chau (Hoa Binh) – price $78
Mai Chau Valley View Hotel – Mai Chau town, Mai Chau, Mai Chau (Hoa Binh) – price $36
If you are travelling in groups, you can choose to rest at the stilt house in Mai Chau and live with the people to feel the culture, life here. Some homestay that you can refer to:
Stilt House No 24 – Stilt house No. 24, Ban Lac 1, Mai Chau, Mai Chau (Hoa Binh) – $ 15
Mai Chau Nature Lodge (Mai Chau Nature Lodge) – Na Phon Village Road, Mai Chau Town, Mai Chau, Mai Chau (Hoa Binh) – $ 15
Mai Chau Green Valley Bungalows – Ban Na Phon, Mai Chau and Mai Chau (Hoa Binh) – $ 15
In the evening, after having dinner, you can invite each other to the vacant lot near the cultural house to watch campfire, cultural activities with the people. After that, you can take a walk around the village then come back to rest, recharge for the next journey.
The second day
Going to a beautiful place like this, you should wake up early to know that the new day in this place starts very early. At about 4, 5 a.m the ladies, the women sitting downstairs, split the lam rice to prepare to sell to customers in the morning. While waiting for the sun to rise, you can sit and chat with them, learn how to make lam rice, or learn some greetings in ethnic minority languages. It's fascinating, isn't it? Afterwards, take a walk towards the field and enjoy the fresh air of this place and take a leisurely look at the sunrise. Everything will gradually appear before the eyes. The black mountains then turn green, the rays of sunlight peek out and illuminate the whole village. The sound of a peaceful life is also bustling with the sun. The sound of chickens crowing, the sound of dogs barking, and the sound of children playing in small houses. A few foreign guests also woke up early, walked around the village, they also told each other their feelings about this place as well … The life was simple but also very exciting.
View of Mai Chau Valley in the dawn
Now return, enjoy breakfast and rent the traditional costumes of ethnic minorities here and take souvenir photos. Hurry up because you still need to go to the market. At the market, you can buy a lot of things as gifts. From colorful brocade suits, handmade items made by the people here to food and drinks. It's a rich, colorful world that can keep you there for hours.
Traditional costumes of ethnic minorities in Mai Chau
Today's schedule is to travel along the Da River, to Hoa Binh hydropower. Yesterday you just stopped by the road along the lake, today you can visit the hydroelectricity, standing on the dam blocking both sides of the Da River. One side is the majestic Da river, the water flows strongly, the other side is the clear blue water, however, due to the strong flow and deep river bed, the torrential water is quite tight so you should be careful.
Vietnamese young visit Hoa Binh hydropower lake
Coming to Hoa Binh hydroelectric lake, you should visit Bac Ho's statue. Group travel by motorbikes from the distance are quite long and steep if you walk will take longer and more effort. Here you can watch the Da river from above as well as Hoa Binh city.
Vietnamese young and the statue of Ho Chi Minh president in Hoa Binh hydropower lake
Above is a guide for the route from Hanoi to Mai Chau by motorbike. If you want the most active trip, you can visit the website Stylemotorbikes.com to consult and rent a motorbike. We are always happy to support your travel.