Review of Ho Chi Minh trail by motorbike
General introduction about Ho Chi Minh trail
This route was built based on upgrading and expanding the number of provincial roads and national highways as well as renewing other sections. The sections of available national and provincial highways are known as sections/national highways/provincial roads.
Accordingly, Ho Chi Minh road will through 30 provinces and cities in Vietnam, with a total length of 3,167km (of which the main route is 2,667km long, the western branch is 500km long). The road will have 8 lanes depending on the terrain in 2025.
Ho Chi Minh road will through 30 provinces and cities in Vietnam
The main route of Ho Chi Minh Road will go through the following places and localities: Pac Bo, Cao Bang town, Bac Kan town, Cho Moi, Bac Kan, Cho Chu, Deo Muong, Trung Son and Phu Thinh junction, Binh Ca bridge (Lo river), Km124 + 500 Highway 2, Phu Ho junction, Phu Tho town, Ngoc Thap bridge (Red river), Co Tiet, Trung Ha bridge, Son Tay town, Hoa Lac, Xuan Mai, Cho Ben, Xom Kho, Ngoc Lac, Lam La, Thai Hoa Town, Tan Ky, Khe Co, Pho Chau, Vu Quang, Tan Ap, Khe Gat, Bung, Cam Lo, Tuan Bridge, Khe Tre, Deo Bay Pass, Mui Trau Pass, Tuy Loan, Hoa Khuong, Thanh My, Lo Xo Pass, Ngoc Hoi, Kon Tum, PleiKu City, Buon Ma Thuot City, Gia Nghia, Chon Thanh, Binh Phuoc Crossroads, Duc Hue , Thanh Hoa, Tan Thanh, My An, Cao Lanh city, Cao Lanh bridge (Tien river), Vam Cong bridge (Hau river), Rach Soi, Minh Luong, Go Quao, Vinh Thuan, Ca Mau city, Dam Cung bridge, Nam Can and Dat Mui.
The West route will go through places: Khe Gat, U Bo Pass, Tang Ky, Monkey Bridge, Sen But, Khe Sanh, Dak Rong, Pe Ke Pass, A Luoi, A Dot, A Tep, Hien, Thanh My.
National highways on Ho Chi Minh trail
Note on the sections of national highways on Ho Chi Minh trail
Ho Chi Minh trail has sections of the following provincial and national highways:
Provincial road 203 (Cao Bang)
Highway 2
Highway 2C
Highway 3
Highway 12B
Highway 21
Highway 15
Highway 14
Highway 63
Highway 80
Travel Ho Chi Minh trail by motorbike
The Ho Chi Minh Trail is a beautiful, interesting and impressive route. However, before circulation, you should note a few points:
Most of the road surfaces are very good and the road is also empty. However, if it is the rainy season, there may be some landslides.
– The sections of the road going well except for the section from Khe Gat – Thanh My (Nam Giang – Quang Nam district) are the roads with many steep passes, small curvature radius and large longitudinal slope (all are 10% or more). The experience is a bit risky and the person who gets carsick would be very tired.
– The difficult way can be replaced by going from Khe Gat – Cam Lo – QL9 – Dong Ha – Quang Tri – NH1 – Hue – Tunnel Hai Van along HHV to Tuy Loan – QL14B – Thanh My (Nam Giang – Quang Nam) (QL14B from Tuy Loan – Thanh My is also called Ho Chi Minh road).
Pay attention to the signs "Road often occurs accidents"
– The Thanh My – Kon Tum section has a section from the boundary of Quang Nam province – Dak Glei Town (Kon Tum), which is a hard-to-reach steep pass (Lo Xo pass).
– When you go on the road, pay attention to the signs "Road often occurs accidents", or "The road passes steep…". Many segments found very normal but there are a lot of accidents. You should be careful as well.
– Normally, there is a town (district center) about 60km along the route, populated with crowded shops. Yet, there are also hundreds of kilometers where no houses are found.
– In the rainy season, pay attention to avoid going into heavy rains, tropical depressions, floods or traffic congestion. Please contact the Traffic Management Department of the Road Management Area II, IV, V (number of the special zone: V – 05113821605).
– You should prepare a good motorbike situation, spare tire because on some parts of the road are very empty and far from Highway 1. There are a few sections, so you should also prepare backup gasoline.
– It is better to bring GPS (phone or separate GPS, Windows Mobile would be good). When going to HCM city, you need to know where you are, where the destination is, then to calculate the distance and accommodation. Since the road is very empty, so you can be difficult to ask for directions as the local people might not know as well.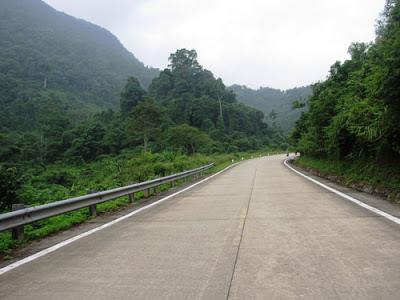 Some parts of the road are very empty and far from Highway 1
– Bring enough motorbike repair, pump, phone charger, 220V electric vibration, cable pulling car, and shovel (if 4-wheel vehicles) to prevent vehicle damage or landslides.
– Bring a lot of food and drink. Do not forget the camera to take beautiful scenes.
– Always calculate the itinerary of each leg for accommodation. Do not run at night, especially for women and children.
– Section from Khe Gat to Lao Bao 220 km, there are 2 roads. The east road is very beautiful, while the West road is the old HCM road, through the jungle. It has great scenery but very few people go, as there is only 1 exit. This road goes through the famous U Bo pass, which is the western Truong Son / East Truong Son border of Pham Tien Duat. If you want to travel this route, you must ask in advance at the beginning points whether there is a landslide.
– The section of Thanh My – A Luoi is winding and steep, nearly 200km high, and almost no 100m is a straight line. This is a rather difficult section – needs a bit of riding experience.
– You should not run too fast due to deserted roads. Cattle can appear suddenly on the road or some people can go wandering…
– Remember to bring common medicine such as abdominal pain, headache, diarrhoea, and bandages…
– In the entire Truong Son route, the most difficult, arduous, drastic achievements are the border gate cluster crossing Truong Son in the west of Quang Binh. It includes roads 12, 20, 10, 16 and 18, which all originate from the former road 15A (Ho Chi Minh Road in the eastern branch today), Quang Binh province.
Riding Ho Chi Minh trail by motorbike is popular and actractive
– Familiar places are Khe Ve, Underground Rinh, Xuan Son ferry, Long Dai ferry (Road 15), Bai Dinh, La Trong, Heaven Gate (Road 12A), Tra Ang, Crab A, underground Ta Le, and Pass Phu La Nhich (Road 20)… These are the famous fierce focal points of the entire route, of which the ATP cluster is the fiercest one. During the 16-year existence of Truong Son road (1959-1975), all types of things from baskets and packings of the first meeting of Doan 559 to inter-walk, motors, river, petrol pipelines oil and air routes are present in Quang Binh. This is where the most obvious "Battle of Baghdad" in the jungle happens. Along with the renovation of the country, Ho Chi Minh road with two branches of East and West passing Quang Binh was completed.
Today, riding Ho Chi Minh trail by motorbike is becoming an attractive tour, connecting the past with the present and the future.