Some things need to be prepared and attention to your airport departure.
Nowadays, the demand for using the airplane as main transportation is increasing sharply because of convenience, variety of prices which suitable for many level incomes. With someone, who always moved by plane, surely they know how to complete all procedures in the airport. But, it is the first time of many people, they are like a fish out of water. This content will share some attention for newbies or foreigners who have never flown in Ho Chi Minh City.
Preparation before flying.
1.1. Find and buy an air ticket.
Nowadays, buying an airline ticket becomes easier because you can not only buy it at the airline ticket agent but also you can order online on your computer or mobile phone. If you choose the first way you should have scheduled before your departure for some weeks, you will have the chance to get a special price.
Buy tickets at the airline ticket agent
On the other hand, you can book in advance a ticket on the official website of airlines chosen or application of your bank. Now, many banks cooperate with airlines and payment gateways provide Booking airline ticket service. It's quite convenient for customers to use and "hunt discount". We needn't move to buy and save time.
Buy air tickets through the bank's application or websites
1.2. Luggage
Normally, each airline has its own rules about carrying passengers' luggage, but a general rule for all airlines are not to bring high-damage objects, metals such as knives, scissors, chemicals…
There are 2 types of luggage that passenger are allowed to bring onboard: hand luggage and luggage. You need to arrange these 2 items carefully.
Consignment is usually bulky and heavy luggage, weighing no more than 32 kg, dimensions of 119 x 119 x 81 (cm). After checking in at the check-in counter, they will be stored in the aircraft's luggage compartment and returned to passengers after the flight ends.
 Item consignment.
Carry-on items are small and light luggage that can be carried onboard, weighing about 7kg and measuring about 56 x 36 x 23 (cm).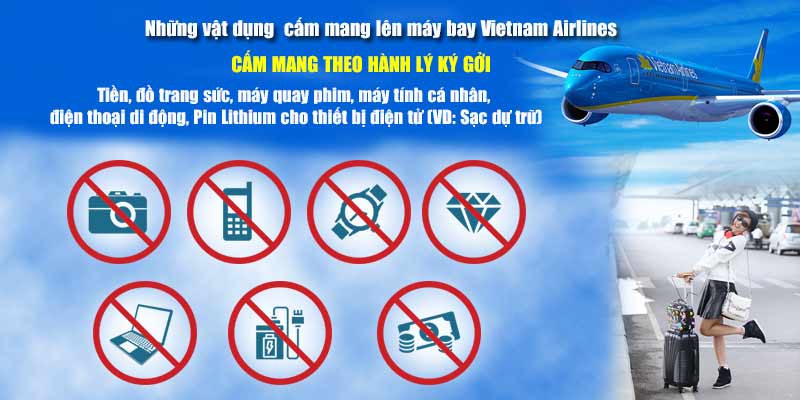 Carry-on items you can bring on board
Prepare all necessary documents.
Before boarding, you need to prepare some of the following documents:
–  Identity card / Citizen card. This document is required when checking in to board.
–  Passport, visa, transit visa if you go abroad.
– Cash. Some airports often charge an extra fee, so bring extra cash to pay these fees.
1.3. Transportation
+ From the city centre. Ho Chi Minh City to Tan Son Nhat airport:
You can take the 152 bus. Phu Nhuan, District 3, District 1, District 5, District 8. Average 10-15 minutes have 1 trip. Travel time takes 35 minutes. Ticket price is 5,000 VND, with extra bulky luggage, an additional 5,000 VND.
    + From Tan Son Nhat airport to the centre of Ho Chi Minh City
Take bus 152, park the car at the international terminal, then drive across the domestic station. On average 10-15 minutes have 1 trip. Travel time takes 35 minutes. Ticket price is 5,000 VND, with extra bulky luggage, an additional 5,000 VND.
 Bus from Tan Son Nhat Airport to City and opposite.
In Ho Chi Minh City: You can use the airport car service. At the airport, there are many car companies that provide shuttle services from the airport to the city centre and vice versa. In addition, you can also take a taxi from companies like Mai Linh, Vinasun … the price of these firms is a bit more expensive. Or you can book a technology taxi like Grab, Goviet, Be. These are technology car companies currently operating in Vietnam market.
Some kinds of taxi you can call at the airport
1.4. Procedures at the counter
Before each flight, you are required to check-in at Departure before boarding about 3 hours. This check-in to compare all your information with the information you have registered under your ticket ensures that no one falsifies your information. This helps the airline to easily control the number of passengers on each flight.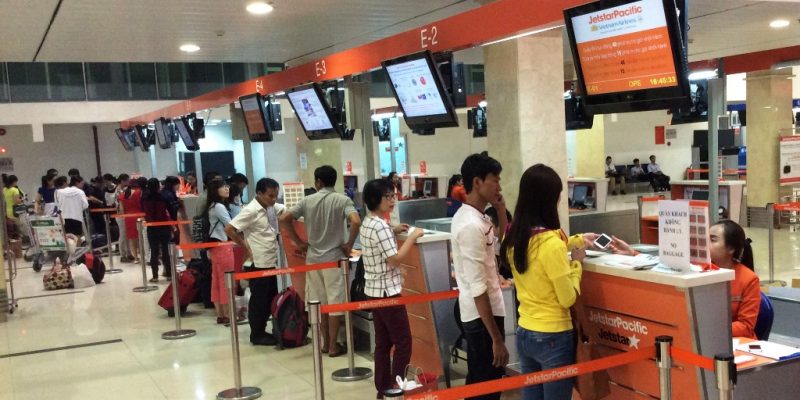 Check-in before flying.
At the check-in counter, the staff will check your identity card, passport/visa, airline tickets and your luggage. After checking, these documents and furniture will be returned to you. In addition, airline tickets will be replaced with boarding passes. You use the boarding pass to enter the plane and find your seat.
Security check procedure at the airport.
You should put your belongings neatly in a separate tray and marked to avoid losing.
If you do not know what steps to take, listen carefully to the instructions of the security staff and pay close attention to the person ahead to avoid unnecessary trouble and avoid losing your time and those around you.
Besides paying attention to the luggage should avoid carrying sharp objects, metal, flammable substances … then you should also pay attention to your clothes. When going to the airport, you should choose minimalistic and comfortable clothes to make you feel comfortable during the waiting time as well as convenient for security checks. You should not wear textured clothes or metal accessories. If you wear outerwear or wear jewellery such as watches, belts, bracelets, necklaces, bags, etc., you should remove and hold them in your hand or should not be worn because security doors are required to be removed.
Domestic flight instruction

Before the plane took off.
The tour guide will guide passengers to board the flight. Typically, boarding priority is ranked by ticket class. First-class business and first-class tickets first, then senior citizens, disabled people and accompanying children. When you board your flight, be sure to show your boarding pass for specific seat instructions.
If you have a request, you can call the flight attendant by pressing the button on the seat.
Flight attendants guide passengers before the flight starts.
2.2. After the plane took off.
You will be given a washcloth / wet towel to wipe your face or hands. Some airlines do not serve food, drinks, you can ask the flight attendant to know more.
Cheap air tickets do not usually serve food, so you need to prepare yourself (if the flight is long) or eat before boarding (if the flight is short).
During the flight, except when taking off and landing, you can travel and move on the plane according to the instructions of the flight attendants.
See also: Safety notes on aircraft – according to the Vietnam Aviation Administration
Guide to flying abroad.
For those arriving at the international airport, you need to bring in a visa and a passport. Currently, although some countries do not require a visa within a short period of time, parts of countries still require it. So you need to check carefully the information about your country of destination.
In addition, you should take cash from your home country to pay for expenses incurred when doing your country's procedures.
Exit procedures before boarding.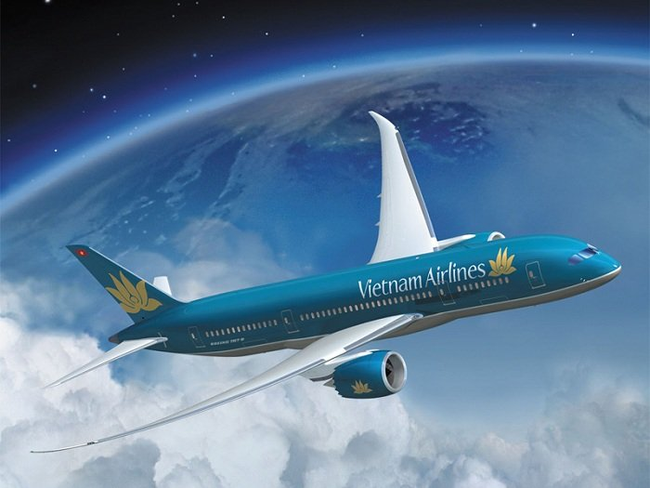 Flying abroad.
Immigration procedures after getting off the plane.
If you go to Transit, you should pay attention to the entry visa. If the two stops are independent of each other, you need to check-in for the next leg after getting off the plane; If two entry points are common, you need to follow the immigration procedures at the stop.
Above is the sharing to help you have the most thoughtful preparation for your flight transfer. Hope it is helpful to you guys. If you have any suggestions, comment below so we can improve our content and share your experience with more people!
Wish you have a convenient and safe flight.