Supermarkets in Ho Chi Minh City
Ho Chi Minh is one of the biggest cities in Vietnam. Many big shopping malls, supermarkets focus on there. If you want to find a supermarket in 1st district, which isn't difficult because there is a central district in Ho Chi Minh City where there is a great demand for goods. We give you a list of some big supermarkets in 1st district below.
1. Co.opmart – a cheap supermarket in Saigon
Co.opmart is a supermarket chain in Saigon under the Vietnamese brand name under the management of Ho Chi Minh City Trading Union. Co.opmart developed quite quickly. So far, the system has more than 82 supermarkets. Including a total of 32 Co.opmart is located in Saigon. This supermarket also achieved many great achievements and noble titles such as "The most favourite Vietnamese brand name", "Top 10 most searched brands in Vietnam" …
A supermarket chain in Saigon under the Vietnamese brand
Contact information:
Address: 189C Cong Quynh, Ward Nguyen Cu Trinh, 1st District, Ho Chi Minh City
Opening hours: 07:30 – 22:00
2. Vinmart 
Vinmart is a supermarket chain in Saigon that was developed based on the slogan "For the quality of life of every home". To help consumers have the experience and superior value when participating in shopping here. In particular, customers also receive many outstanding values ​​through attractive promotions and incentives from Vinmart.
Vinmart – famous supermarket chain in Saigon
VinMart supermarkets often have a large area with more than 40,000 different items and categories. In addition, consumers can go to mini supermarkets and VinMart + convenience stores. With the dense system throughout the country, customers can easily buy goods anytime, anywhere.
Contact information:
Address: 70 – 72 Le Thanh Ton, Ben Nghe, District 1, Ho Chi Minh
Operating hours: 07:00 – 22:00
3. Tokyo Mart
If you are a big fan of products from Japan, you can set your mind a rest when shopping in Tokyo Mart. This is a supermarket system which only provides all types of goods imported from Japan. You needn't go to travel to Japan or order anything to own a genuine product with high quality. The campus is 1000 m2, professional staffs and good customer service, Tokyo Mart confidently provide prestige products from Japan to Vietnamese customers.
A famous store providing every product from Japan
Address:
18Bis Cong Hoa Street, Ward 4, Tan Binh District, Ho Chi Minh City
14A Phan Dinh Giot Street, Ward 2, Tan Binh District, Ho Chi Minh City
2Bis Nguyen Thi Minh Khai, Da Kao Ward, District 1, Ho Chi Minh City
Read more: 10 biggest shopping mall in Ho Chi Minh you should know
4. Akuruhi Japanese Supermarket
Akuruhi Supermarket is the first distributor of Japanese food and beverage in the Vietnam market, we always try our best to bring customers the best quality products and the best service. Some typical names are our loyal customers such as Sakura Japanese Restaurant, New World Hotel, Nikko Hotel, Yen Sushi, Hokkaido Sachi, Gyu Shige, Sushi King, Manmara, FamilyMart, Mini Stop, Evon, Vinmart. We specialize in providing Japanese food, Japanese spices, Japanese wine, Japanese functional foods, Kobe beef, sashimi and sushi ingredients …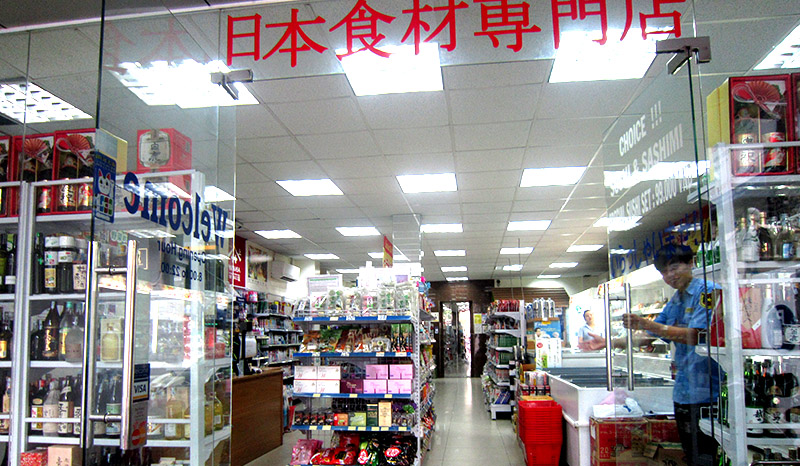 The first distributor of Japanese food and beverage in the Vietnam market
Address: 03-05 Le Thanh Ton, Ward 1, Ho Chi Minh City
Phone number: 0903941522
5. Citimart
DAILY: The foundation of Citimart is "We always have what you need daily". Throughout using data and choosing the best products, all branches of Citimart provide surely everything that you need for a meal or gifts, flowers to help you have close-knit relationships
BETTER: We always look for what is better and refresh its definition to help customers can choose all the best things. Citimart tries to find out the highest "quality", "safety", "innovation" and let you deep into "fresh". Life becomes better with Citimart
A big supermarket with a variety of goods
EXPERIENCE: The first rule is customers always feel comfortable and funny when buying what they need. This supermarket hopes that you are satisfied with their service. Whenever you come to Citimart you'll enjoy that time. Second, customers feel welcome when they enter the store and are treated fairly and in a friendly manner. Aeon Citimart always strives and strives to give customers a good experience, always focusing on careful product selection, guidance, staffs training and creating a special culture for all employees. The staff is happy, the customers will be happy.
MORE: Constantly driven to development, we always exceed expectations and create surprises for our customers.
Address: 21-23, Nguyen Thi Minh Khai, Q. 1, Ho Chi Minh City.
Phone number: (84-8)38244818
6. Ben Thanh market
This is the oldest and most modern market in Saigon. Owning ancient architecture from the French colonial period, Ben Thanh market is also known as one of the most popular attractions.
Go all over the country, few see markets that focus tourists of many nationalities and colours like Ben Thanh. This is also the place where there is an intersection between Eastern and Western cultures. Through the market gate, visitors will see a bustling and different world.
This is the oldest and most modern market in Saigon
In addition, Ben Thanh is also famous as the largest retail market. The items here are very diverse, rich in types of vegetables, spices to confectionery, food, seafood, clothing, textiles, souvenirs, jewelry, electronics … There are enough from affordable to high-end products.
Goods are sold and divided by each area in the market. Cua Nam concentrates on fabrics and dry food. Cua Bac is always full of flowers and fresh fruits with colourful and eye-catching colours. Cua Dong has all kinds of cosmetics and confectionery. Cua Tay is the place that attracts the most tourists because it sells shoes, handicrafts, and souvenirs.
Address: Le Loi Street, Ben Thanh Ward, District 1, Ho Chi Minh
Read more: 10 famous night markets in Ho Chi Minh City
Living in Ho Chi Minh City ensures a comfortable life. As you can see, we have just listed a number of famous supermarkets and markets among many shopping malls and shopping centres in District 1 of Ho Chi Minh City. With the above information, we hope to make it easier for you to find shopping centres and supermarkets so that you can be more convenient during your time in Vietnam.