Taste of Saigon on motorbike
About Saigon city
Saigon (or Ho Chi Minh City) along with Hanoi are the two key economic and cultural centres of the country and also the leading tourist destinations in Vietnam. Before travelling to any places, you should learn about that land, as it will help you more convenient in exploring.
With a long history of cultural and religious relics for hundreds of years, Saigon is still one of the youngest and most dynamic cities in the country. Travelling to Saigon, you will have the opportunity to discover famous destinations, unique cuisine and friendly, hospitable people.
Famous destinations in Sai Gon
The best time to travel to Saigon by motorbike
The weather in Saigon has two main seasons: rainy and dry, not distinguishing the 4 seasons as in Hanoi. Besides, the sun in Saigon is not as harsh as in Hanoi, so it is very convenient for sightseeing. Hence, you can travel to Saigon on a motorbike at any time of the year.
If you want to participate in the biggest full moon festival in Chinatown or the Tet lantern festival on the river in Saigon, you should visit the city after Tet (around February and March).
Nguyen Hue walking street
Why should you explore Saigon on a motorbike?
Why are there so many modes of transportation that we would recommend riding a motorbike in Saigon?
Firstly, there are few places in the city where you can stay for a day. If you go by taxi (even if catching a Grab bike), the price is quite expensive. Moreover, if you get around by car, it also costs a lot of money.
Secondly, everyone knows that Saigon is easy to get stuck in traffic. If taking a taxi or a bus to a destination, you would normally be caught in a traffic jam.
Thirdly, when it comes to famous eateries, which are mostly located in the alleys, riding a motorbike is a wise choice. If you choose a motorbike, it will help you explore all corners of Saigon.
Fourthly, renting a motorbike will be more convenient if you intend to hang out in locations far from the center or nearby provinces such as Binh Duong, Binh Phuoc and Vung Tau.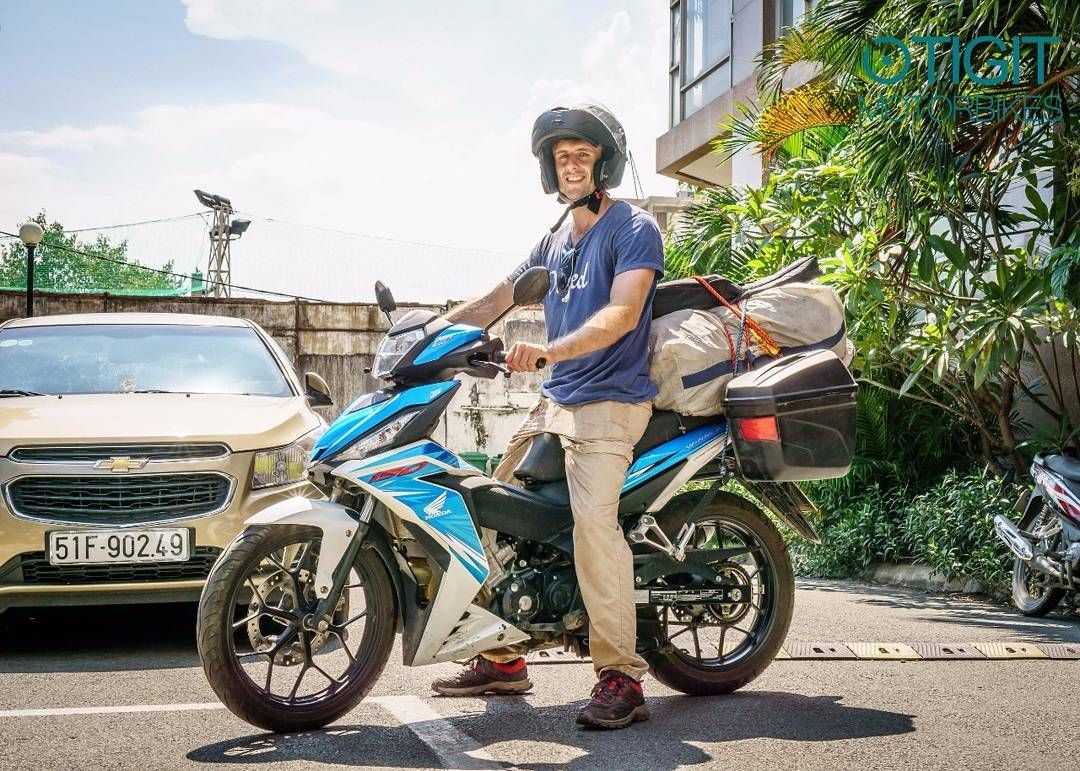 Exploring Saigon on a motorbike
Motorbike rental shops in Saigon
Some of the shops specialize in renting motorbikes in Saigon with quite good prices, guaranteed cars. Most motorbike hire in Saigon is about 80.000 VND – 200.000 VND/day. If renting for days, it will be cheaper. Most of them require a large deposit.
Rent a motorbike in Saigon: 95/38 Nguyen Van Troi, p.12, Phu Nhuan, Saigon, Tel: 090 863 00 65. This rental is quite good but it will not deduct the deposit of the guests.
Motorbike rental service: 985 Pham Van Bach, Ward 2, Go Vap, Saigon. Phone: 0937 929 220. The price here is reasonable and the elderly landlord would also make you feel more secure.
Style Motorbikes: 368 Vo Van Kiet, Dist. 1, Phone: 028 6683 3796. This place is famous for its reasonable price as well as the enthusiasm of the staff.
Besides, there are many other motorbike rental services in Saigon, so you should not worry about where to rent. If you want to save time and effort, you just need to turn on Google Maps and type "rent a motorbike recently" which shows quite a lot of results.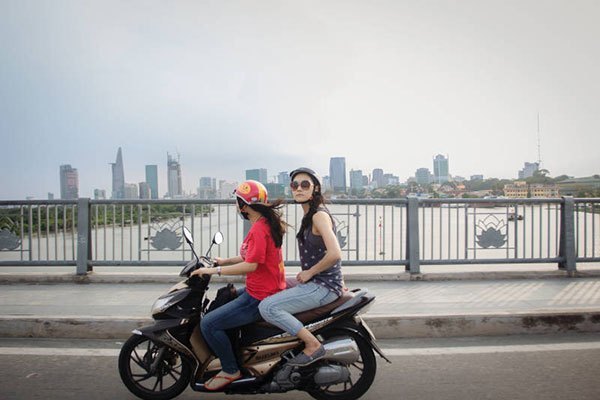 Motorbike rental shops in Saigon
Notes when renting a motorbike in Saigon
You should not concentrate on the price when renting a motorbike, just choose a good motorbike to go.
There are very few traffic police in Saigon. Therefore, if you go inside the city, you may not need to bring a motorcycle license. However, if you have to go to the suburbs, you have to bring along a motorcycle license.
The tourist destinations in Saigon
Saigon does not have many places to hang out, mainly famous attractions such as walking streets – Ben Thanh Market and Notre Dame Cathedral.
Nguyen Hue Street
This is the most famous street in Saigon as the crowd gathers here every night. The most impressive things are the unique water music shows every weekend and the circus as well. Going for a walk on the pedestrian street doesn't cost you an entrance ticket. However, coming here seems quite arduous, so you have to park your motorbike outside. If travelling to Saigon for the first time, it is easy to get lost.
You can rent a motorbike and then hang around the pedestrian street. Or you can hire a taxi if it is evening as District 1 often has traffic jams. Although riding a motorbike would make you feel a bit dusty and hot, it will be more active. Catching cars is often quite tired.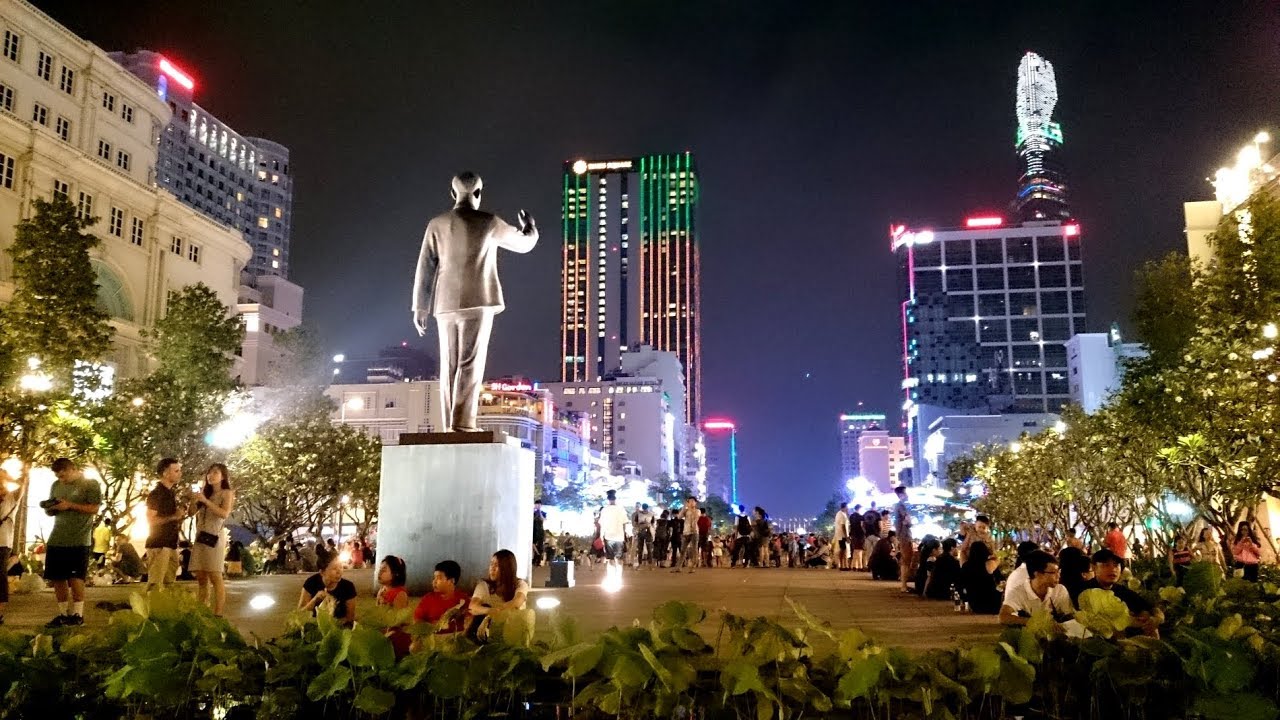 Nguyen Hue Street is a broad walking promenade in the middle of District 1 city centre
Ben Thanh market
This market is famous for being the largest and oldest in Saigon, as the Con and Han markets in Da Nang. Saigon tourists should come here on a trip, as the market is quite crowded in the morning. There are a lot of household items, clothes, and handicrafts. It is also bustling with snack areas with famous dishes throughout the city such as snails, sticky rice, spring rolls, etc…
Ben Thanh Market does not have a specific address. It is located at the intersection of Phan Boi Chau, Phan Chu Trinh, Le Thanh Ton Streets and a construction site, located right in District 1.
Ben Thanh is the largest and oldest market in Saigon
Notre Dame Cathedral
Referring to the symbol of Saigon, we have to mention Notre Dame Cathedral, which is located at 01 Paris Commune, Ben Nghe Ward, District 1. The cathedral is built in 1880s, but it still attracts a lot of tourists by its ancient beauty for years.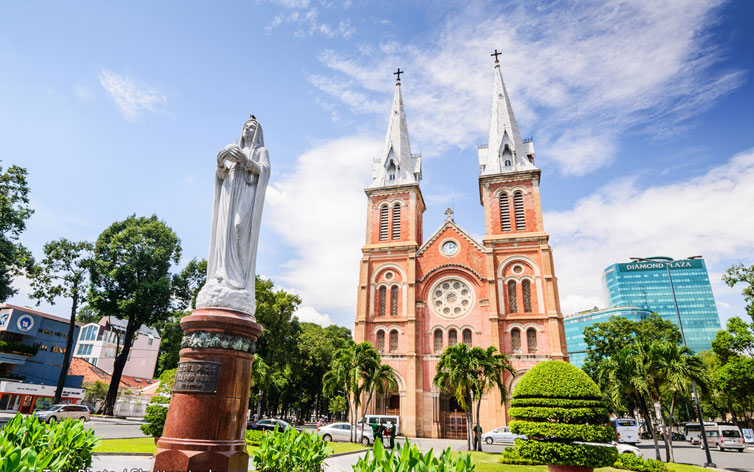 Notre Dame Cathedral is a symbol of Sai Gon
Dam Sen Cultural Park
Saigon is a city that does not connect by any sea (Can Gio beach is mostly mud). Thus, on holidays, local people often go to Dam Sen Water Park to relax and have fun. In short, there are two separate areas. One is Dam Sen Dry Park (this is just walking, playing games like duck riding, roller coaster). The other is Dam Sen Water Park, which is more popular because all activities take place underwater.
Zipline jump, swimming in the pool, skateboarding or going around the water maze in Dam Sen are fascinating games, bringing a surprisingly refreshing feeling. In particular, the atmosphere here is extremely cool, so you can buy ready-to-eat food. The reason is that you would be hungry after playing an hour.
Local people often go to Dam Sen Water Park to relax and have fun
Cu Chi Tunnels
This place is quite far from the city center, so you should find out about the way before starting.
Directions: If you are nearby, you can take the bus for convenience. On the other hand, if you are far away, ride a motorbike or a car. You turn to An Suong overpass to Highway 22 and ask for directions to Cu Chi. When you come to Cu Chi district, you should notice at the left side. There will be a guide to the tunnel and the way is quite easy to follow.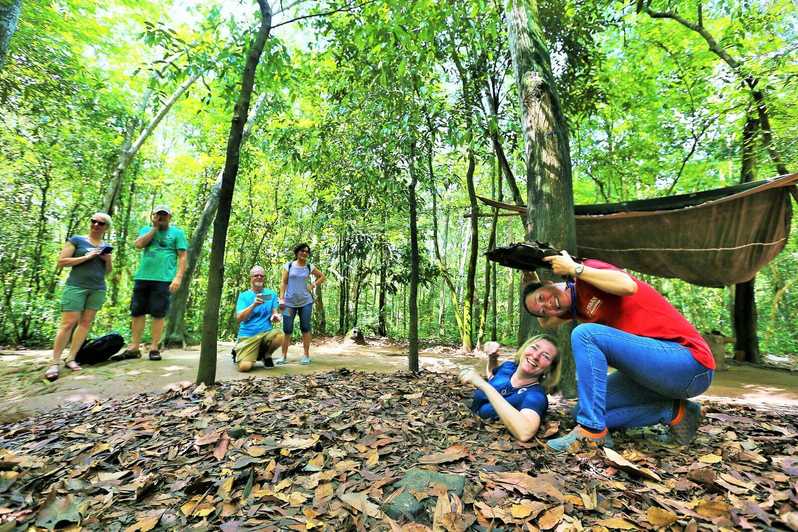 Cu Chi tunnel is one of famous historical destination in Sai Gon
Those are the Saigon travel guide and experiences on a motorbike. Hopefully, Style Motorbikes gave you some of the necessary and useful information for a more convenient and memorable trip to Saigon.