Top Gear Vietnam
What is Top Gear?
Top Gear is well-known for its impressive test cars. In spite of the risk, it's an interesting and humour program. All of the cars and motorbikes appear in Top Gear belongs to top brands of the world. Produced by the trio Jeremy Clarkson, Richard Hammond & James May and their crew, this program has attracted many speed lovers.
An interesting and humour program
Top Gear's journey in Vietnam
Normally, the team would test supercars. However, when Top Gear came to Vietnam in 2008, they chose the shabby, oddly shaped motorbikes. The bikes were almost constantly repaired, or even replaced. Perhaps, this was a challenge for all three to travel across Vietnam from Ho Chi Minh City to Ha Long Bay by those motorbikes.
At first, when the trio was given a box full of money, they were very excited. But when they realized that it was millions of Vietnamese Dong, that excitement was no longer there. In Vietnam, an imported car is highly taxed. Thus, with this little amount of money, they couldn't buy a luxury car and had to choose three cheap motorbikes. This had made their start not as happy as expected.
On the first day, the presenters started from Ho Chi Minh City to Da Lat – a foggy plateau full of flowers. Before starting, they needed to prepare some helmets. No problem with Hammond, he got a fit helmet. However, because May and Clarkson couldn't wear helmets for Vietnamese, they need flexible customize ones.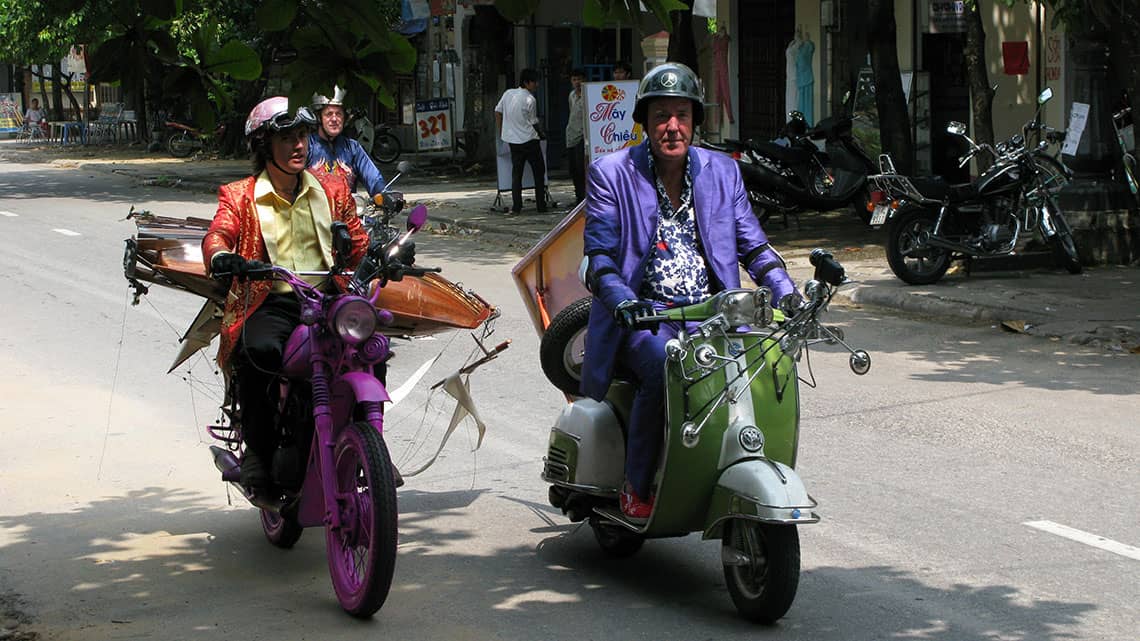 Top Gear's journey in Vietnam
The old motorbikes and the hilly terrain of Dalat really challenged their patience. In particular, with May, it was twice as difficult when he always needed to push his bike through the hills.
After the first stage with huge difficulties and challenges, they continued to go to Nha Trang. Hammon was given a new pink helmet to replace his broken one before leaving there. In the second stage, they had to face off with as many difficulties as the first. It was raining heavily, so May's bike ran out of petrol.
On two continuous days, the team moved from Nha Trang to Hue and decided to stay in Hoi An. After that, they crossed Hai Van Pass. Hai Van is a beautiful pass, which connects Da Nang to Hue like connects the modern to the ancient.
The next day, the trio moved to Ha Long and finished their journey. Everything would have been okay if they hadn't had the wrong decision. They thought that if they kept going by their shabby motorbikes, they couldn't be finished on time. But the reality wasn't perfect like they had expected. Instead of choosing the train to go to Ha Long, they caught the train which led them to Hanoi. Unfortunately! They couldn't save their time as they wanted.
Top Gear's journey in Vietnam
Finally, Jeremy Clarkson, Richard Hammond & James May were able to be in Ha Long. In there, they got other challenges from the producer. They must change their vehicles, from motorbikes to amphibious ones and their mission was to find a remote bar in Halong Bay. This is just an abstract about Top Gear's journey in Vietnam. As you can see from it, no matter how much money you have or what means you use, you still have amazing trips. The passion for travelling is for not only one person with enough money but also all of us. If your passion is intense enough, you will be able to solve any difficulties you may face.
Experience travelling by motorbike in Vietnam
Anyone can travel around Vietnam by motorbike. This is a form of cheap travel but also not less interesting. Travelling by motorbike, you can ride on all the roads of Vietnam, from the wide boulevards to the small roads throughout the countryside and villages. Not only that, you would meet many friendly, gentle people. How much sincerity and cultural trait in your life, you will be able to fully experience.
Highlights when travelling by motorbike in Vietnam:
– Normal speed: 50km/h. With this speed, you can ensure that you can easily control and respond to unexpected situations. That would be a safe speed for you.
– Friendly people: if you encounter any difficulties, you can completely ask indigenous people for help. It is also very easy for you to find almost anyone under 30 who can speak English.
– Price: Less than $50/day including accommodation, food, motorbike rental…
The secret to choosing a motorbike to travel in Vietnam:
If you are interested in the route of Top Gear, you can refer and experience. The total distance is 1650km. A long enough distance for you to satisfy your passion for backpacking and to see the diverse beauty of each region of Vietnam.
Here are a few suitable models motorbikes that you can refer to:
Honda Blade 110cc
Honda XR150
Honda Winner
Yamaha Exciter
– 110cc

– Semi Automatic

– Unlimited KM rental

– 3.7L fuel tank

– Most common rental bike

– 150cc

– Manual

– Unlimited KM rental

– 12L fuel tank

– Best option for two ppl

– 150cc

– Manual

– Unlimited KM rental

– 4.5L fuel tank

– High quality all-arounder

– 150cc

– Manual

– Unlimited KM rental

– 3.7L fuel tank

– Most common bike in Vietnam
If you want to follow another route without any ideas, you can also contact us, we are ready to assist you to have the most complete trip.