Trac Ed Around Asia – 87 Days motorbiking in Vietnam
Eddie and Tracey set off to travel through South East Asia, they wanted to be motorbiking in Vietnam. They planed to see all of Vietnam, Cambodia and Laos starting and ending in Hanoi.
This is where we met them.
They brought 2 x 125cc New Detech Wins from us in May and have documented everything and everywhere that they have been to since, from the costs of the bikes to the best places to ride and the worst.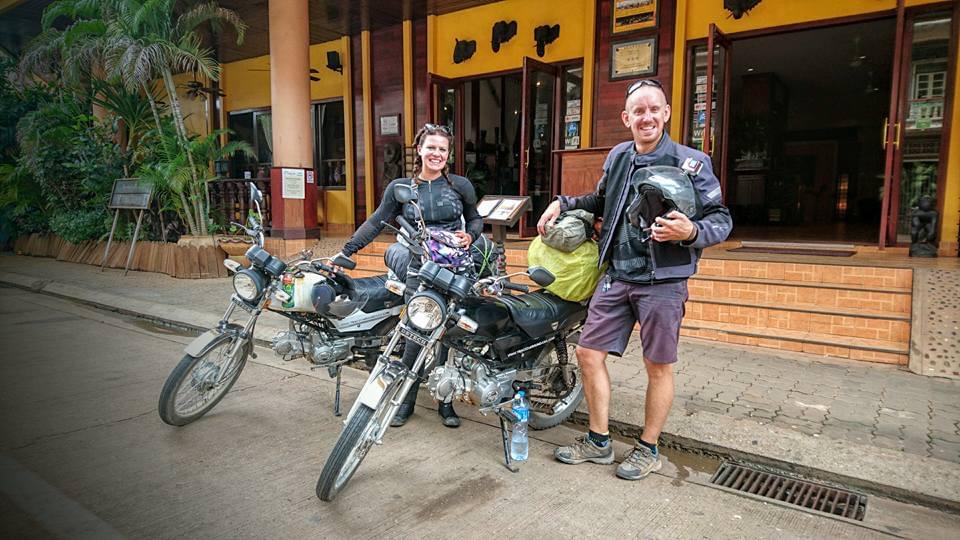 So far they have completed Vietnam and below is a summary of some of the details of their trip.
Vietnam 2016 Snapshot:
Total days in Vietnam: 87 Days (May, June & July 2016)
Total beds slept in: 35 Different beds
Distance travelled: 5,500 km by motorbike
Cost of Bike Ownership
Bikes : $600
Maintenance and repair*: 550,000 VND
Oil changes (6): 1,500,000 VND
Petrol: 3,630,000 VND
Decals**: 1,000,000 VND
Total spend: 6,680,000 VND 
* Maintenance and repair includes items that were damaged on the road and needed replacing namely; 1 new brake lever (30,000 VND), 1 new rear brake assembly (120,000 VND), 1 set of new back brake pads (130,000 VND), 1 throttle rebuild (20,000 VND), a new electric starter button (100,000 VND), 7 rear wheel spokes (70,000 VND), 3 punctures (80,000 VND)
**pimping our rides
Best Roads Motorbiking in Vietnam
If we had to pick three favourite roads while motorbiking in Vietnam they would be:
In first place its the back road from Phong NHA to Khe Sanh through unspoilt rainforest close by the Laosian border.
A close second would be the phenomenal road from Nghia Lo up and over the mountains to Sapa.
In third place would be another road in the north heading from Bac Ha to the eastern perimeter border of lao Cai province. This road however becomes exceptionally challenging after crossing the provincial border.
Other notable mentions would be the Hai Van Pass north of Danang; the winding backroads through the Mekong Delta along canal sides and over bridges; and the coastal road south of Hoi An past the prawn farms and across the small local ferries.
Best Places
This is too hard to limit to one place, as there have been so many places we have loved for various reasons. In no particular order other than general north to south, we would say the following destinations have to be seen if in Vietnam:
Sapa for the mountain views
Bac Ha for the tribal market
Cat Ba for restful relaxation on the beach
Hanoi for the old quarter
Phong Nha for the amazing caves and scenery
Khe Sanh for the military fort
Hue for the Citadel and access to DMZ
Lang Co for the beaches and lookouts
Hoi An for the beautiful lantern lit old quarter and tailors
Kon Tum for the friendly people
Buon Ma Thuot / Lak Lake for the waterfalls
Nam Cat Tien for the gibbons tour and jungle wildlife
HCMC for the iconic sights where old meets new
My Tho / Can Tho and the Mekong delta for the stunning scenery around the canals
Phu Quoc for the relaxed island vibe and local animals
The main article is much more details and you can see on this map everywhere that they have cover and a break down of what each day was like. So if you want to get ideas about where to go or want to read about a particular route then you will be able to find everything that you need here.
After motorbiking in Vietnam they both travel Cambodia and Laos still on the same bike and have finally sold them in Laos.
We would like to thank them both for all the detailed information that they have given, it really gives an insight for any other customers looking to do the same.