Travel from Dalat to Nha Trang by motorbikes
After contemplating the beauty of mountains and fogged valleys in Da Lat, dreamlike places bring you comfortable, peaceful, you'll leave here and come to Nha Trang. Nha Trang is one of the most beautiful beach cities in the world. There are many beaches and islands, which can make you feel fresh and energetic. We will guide you to move from Da Lat to Nha Trang by motorbikes.
Da Lat and Nha Trang are beautiful cities you should visit at least once.
Away from the hustle and bustle of urban life, they come to Da Lat to have slow life, to live completely twenty-four hours from the dawn till the sunset taken over in the mountains, to sip simple things one by one in their lives. Equanimity… Leaning against an old pine tree, infatuated with the beauty of the roadside wildflowers or immersing in the white waterfall, you will never feel lonely in the middle of the sky. In Da Lat, you can choose a peaceful corner, nibble a cup of coffee is warm and fragrant, listening to a harmonious melody of Da Lat. Another choice is roaming the streets, looking out to see the exquisite beauty of this city. The dream city is draped in the beauty of thousands of flowers.
The lonely tree in Dalat
People come to Da Lat and don't know exactly when the love comes and appropriate their heart. Everything comes naturally like an artist fall in love with a pretty girl. And then, the days afterwards lived forever like a drunk love.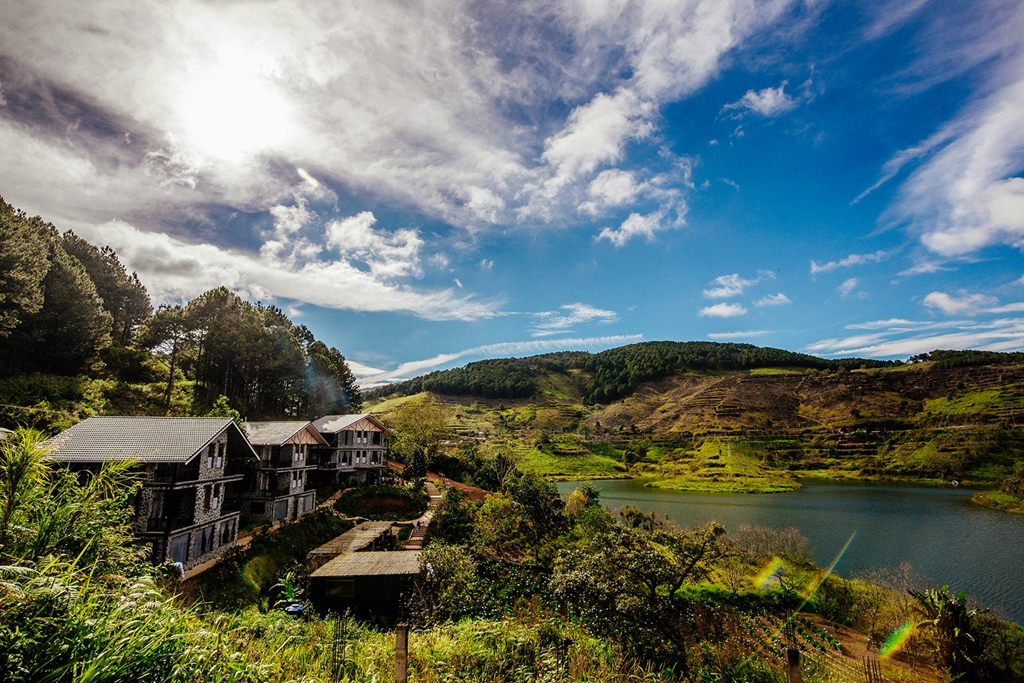 Dalat is a beautiful plateau in Vietnam
If Da Lat brings the sweet beauty of a muse, Nha Trang is a modern girl. She is beautiful, fresh and vibrant. Vibrant, passionate like waves, like sunshine.
Coming to Nha Trang beach tourists will feel a rare peaceful feeling. Perhaps that is why many people have praised Nha Trang as a paradise of tourism. Nature has bestowed on Nha Trang everything that a coastal area can have: from beaches with fine white sand stretches to amazingly beautiful offshore islands, from exotic coral reefs virtual under the ocean to the ancient moss Cham temple on the mountain…
Nha Trang beach is as beautiful as a gem
Viewed from above, Nha Trang beach bends like a crescent embracing the emerald green bay. By the sea, coconut groves and casuarina cascading compliments the ecstatic beauty of the sea. The climate in Nha Trang is very mild, sunny all year round, only 2 months of rain each year, so it is very convenient for tourism. Tour Nha Trang is surprisingly green and beautiful in the sunny season and the beach of Nha Trang is also blue with every moment of the day. The rainy season in Nha Trang is very short, but whoever is lucky to watch the rain on the sea also brings a strange, unforgettable feeling.
Each piece of land has its own beauty, but it is equally beautiful. Perhaps a trip from Dalat to Nha Trang is a great choice and cannot be perfect. You can both feel the beauty of the plateau, the flower city, and you can feel the salty taste of the sea.
Click  10 outdoor shops in Ho Chi Minh if you want to rent or buy them.
The route of Da Lat – Nha Trang
Road 1:
This is the road connected to the sea and is called as 723 or 27C. The specific route is as follows: Da Lat city – Lac Duong district – Khanh Vinh district – Dien Khanh district – Nha Trang city.
If you follow this route, you will have to travel a long distance of 140 km, on this road, there are Nui Ba National Park and the majestic Omega 1700m pass. You can stop checking in, save those wonderful moments.
The road from Dalat to Nha Trang
Road 2: The second route takes you from Da Lat to Nha Trang is to follow Highway 27 and Highway 1. Specifically as follows: Da Lat – Highway 1- Thap Cham Phan Rang – Highway 27- Pass Ngoan Muc – Don District Duong – Highway 27B – Highway 1A – Nha Trang city. If you follow the route above, you will have to move 200km.
Road map:
Roadmap form Dalt to Nha Trang by motorbikes
Experience go backpacking by motorbikes
For young people who love to explore and love to experience, travelling from Dalat to Nha Trang by motorbike is the perfect choice to admire the beauty of the landscape. From the vast city of Da Lat to the pristine forests, the winding roads to the coastal city of Nha Trang shimmering in the sun with blue sea, white sand.
If you choose the first route, you need to pay attention because this route has many dangerous bends, deep pools and cliffs. You should be careful when walking, pay attention to your speed, especially when it rains the slippery road will be even more dangerous. This section of the road will run through Omega Pass, a 33km long mountain pass, the second longest mountain pass in Vietnam, at an altitude of 1700m above sea level.
Experience go backpacking by motorbikes
However, because of such rugged terrain, the scenery here is extremely majestic and magnificent. Surely you will be extremely excited when going through the virtual fog, watching the waterfalls pouring down from the hundreds of cool. In addition, this route also runs through Bidoup Nui Ba National Park. You can stop the bike to see the charming picture here. Bidoup Nui Ba National Park is the national park with the most biodiversity in Vietnam.
Also, because of the dangerous, potentially dangerous so this road is spacious, there are few vehicles to and fro. This is extremely convenient for you to get beautiful photos.
In order to have a safe trip, in addition to the health of your vehicle, it is also necessary to prepare carefully before starting. We will share with you some notes about motorcycles and other necessities for your trip.
Whether you rent a motorbike or use your own one, keep in mind the following points:
– Check the tires
– Check the buzzer battery, headlights, taillights, turn signals, spark plugs … all must be in good condition.
– Enough both mirrors
– Driving license. For foreign visitors, you need to prepare an international driving license.
– Insurance, vehicle papers: these are important things you need to prepare. If you are a motorbike renter, the lessor will be responsible for them, but you need to remember to check and make sure they are complete.
– Helmets: You should use glasses with the wind, dust protection. If possible, you should prepare a good helmet for better protection. When travelling, you should choose sturdy, good quality hats to ensure your safety. Phượt is a quite dangerous type of travel, so you need to be very careful and prepared carefully.
– Repair tools: There are not always motor repair shops on the way or you may see billboards for motorbikes rescue services. So it is best to prepare your own simple tools such as patching tools to see the pump … to handle themselves in situations that are not too complicated.
– Filling petrol before going to the road: The road from Da Lat to Khanh Vinh must go through the national forest about 50km long without a gas station. An average fuel tank runs 100km so it is best to fill up before entering the national forest area.
Here is some basic information that we want to give you. We hope that it'll be useful for your backpacker trip from Dalat to Nha Trang by motorbikes.
Wish you have a nice and safe trip!