How to travel from Hanoi to Sapa by motorbike for newbies
How to travel from Hanoi to Sapa by motorbike for newbies
Sapa is not only an attractive tourist destination but also is an interesting place to challenge and explore. In this article, we will share our experiences in travelling by motorbike for your reference.
Picking a motorbike as a means to travel to Sapa is currently chosen by many young people. It not only helps to save costs but also gives you a lot of interesting surprises. However, before starting your journey, please check out some experiences when travelling by motorbike from Hanoi to Sapa.
An interesting experience to Sapa by motorbike.
Which season is the best for backpacking in Sapa?
You should refer to the weather forecast for about 1 week in advance to schedule for the best. We will share with you some of the best times in Sapa for your reference:
Spring: Around from February to March, Sapa is filled with peach blossom, plum blossom, pear flower. Moreover, Rhododendron blossoms on the slopes usually bloom around from March to April. Therefore, the fans climbing Fansipan can see a lot. Besides, this is also the season of pouring water in Sapa.
Beautiful scene in the spring
Summer: The period from June to August in Vietnam is usually rainy and also hot summertime. However, Sapa is always cool and cold. So you can completely choose to come here to avoid hot weather.
Summer in Sapa
Ripe rice season: The time from September to November is when Sapa is dressed in a shiny yellow coat. The rice plants have begun to flower on the terraced fields, preparing for a harvest season. Sapa's scenery at this time would make visitors admire the most. Furthermore, during this season, many tourists often come to "hunt for" photos just because of its unforgettable beauty.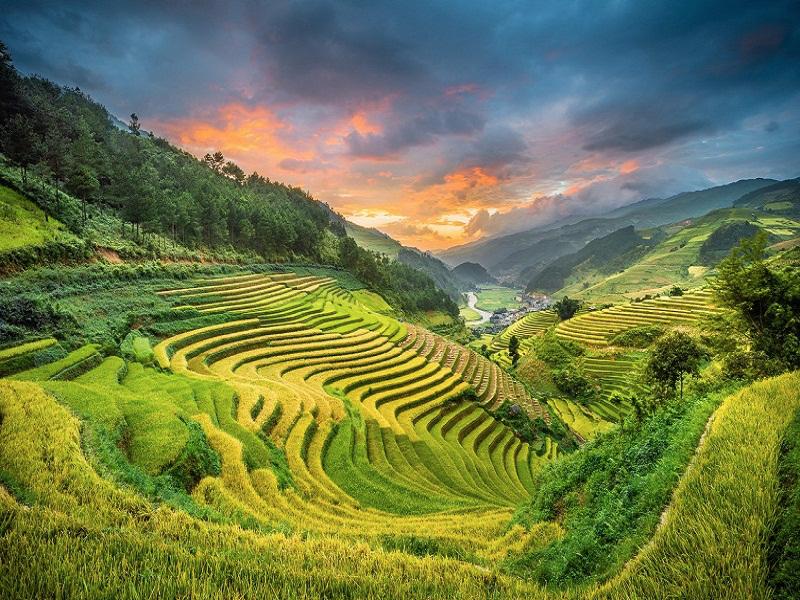 Beautiful terraces in the Summer.
Winter: Winter in Sapa is quite cold, usually around November – January. The temperature sometimes goes down and there are frost and sleet here. If you go at this time, you need to pay close attention because the road will be very slippery.
Winter in Sapa
Roadmap from Hanoi to Lao Cai by motorbike
The way to get here is divided into 4 stages:
Stage 1: Hanoi – Vinh Phuc
After crossing Thang Long Bridge, you go to Tien Phong intersection and turn left. Or you choose another direction: go to Phu Cuong intersection then turn left.
Roadmap from Hanoi to Vinh Phuc by motorbike
Stage 2: Vinh Phuc – Phu Tho
From Vinh Phuc via Viet Tri city, you go straight to Doan Hung, Phu Tho
Roadmap from Vinh Phuc to Phu Tho 
Stage 3: Doan Hung – Lao Cai
From Doan Hung, you take Highway 70 to Lao Cai City
Roadmap from Doan Hung to Lao Cai 
Stage 4: From Lao Cai city, you take the National Highway 4D (or the road to Sapa)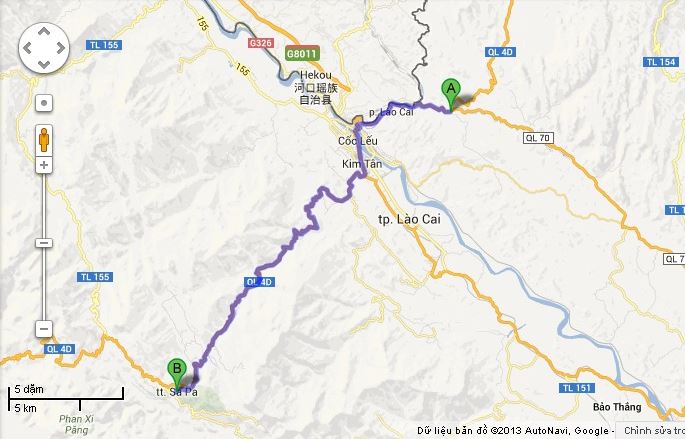 Roadmap from Lao Cai city to Sapa 
Is the road to Sapa dangerous?
The road to Sapa is not as dangerous as people usually think.  But it is also a bit difficult as the road from Lao Cai to Sapa is quite steep. If you are not used to travelling by motorbike, you can choose to go by car or bus.
Experiences when going to Sapa by motorbike
If you intend to travel to Sapa by motorbike, the following items are indispensable things that are derived from experienced backpackers.
Do not bring too many clothes so that your backpack will not be too heavy and affect your travel. Travellers should bring clothes that are suitable for the summer. And in the spring, you should wear thin jackets because it is also very cold at this time. If coming to Sapa in the winter, visitors should equip extra thick coats, socks, hats, scarves … to avoid getting sick from its cold. Moreover, visitors should not forget to take personal hygiene items when coming to Sapa no matter what season you are in.
The famous sights of Sapa
Here are several famous sightseeing places that visitors should come on a trip to explore the foggy town of Sapa.
Ham Rong Mountain: It is located in the heart of Sapa town. Standing here, visitors will have a beautiful panoramic view of the town. The feeling of watching the whole nature from above would be absolutely interesting.
Sapa Stone Church: This is a tourist site built-in 1895. Because it was built a long time ago, the church carries in itself an ancient and magical beauty. Therefore, this place attracts a lot of tourists.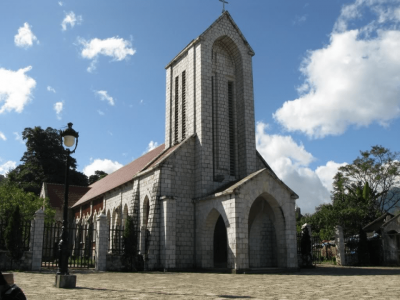 Sapa Stone Church
Ancient stone beach: Located in Muong Hoa valley, this place has a lot of ancient stones with many different shapes. The rocky beach is among plants and flowers, even in terraced fields. The rocks here have strange drawings and characters that are hard to explain. Therefore, many tourists often come here because of their curiosity.
Sky Gate: This is the highest road peak in Vietnam. When standing here, visitors can look over the valley below. Up to the Sky Gate, they can feel the whole beauty of Fansipan mountain in the distance or Silver Falls – one of the most beautiful waterfalls in Lao Cai. If you can, come to Heaven Gate once. This is considered as a destination that any traveller wants to conquer.
Refer to The best adventure motorcycles for beginners
Fansipan mountain: This is the place that almost anyone who comes to Sapa must visit, otherwise, they will be really regretful. Fansipan Peak is located in the center of Hoang Lien Son mountain range – the highest mountains in Vietnam. Coming here, tourists will definitely admire its beautiful natural scenery. When conquering this mountain, visitors would feel very happy and proud of it.
Fansipan mountain
Besides, Sapa also has many other famous tourist destinations such as Ban Cat Cat, Ban Ta Phin, Coc San, Dinh Hoang A Tuong, Phien Bac Ha Market … If you have a lot of time, you should visit all these places.
Sapa is the convergence of heaven and earth, covered by mountains, green clouds. It has many beautiful landscapes and has attracted a lot of tourists to visit. If you travel to Sapa by motorbike, the trip will be very interesting because you can take the initiative and freely go to the places you want to visit.
The feeling of sitting in a motorbike and immersing yourself like the Northwest mountains will be great. It is an experience that visitors will never forget.
Prepare for motorbike maintenance before going to Sapa
Before travelling to Sapa by motorbike, you should carry out maintenance for your vehicle to operate in the best condition. The work to be done is:
+ Replace machine oil, lubricate chains.
+ Check tire tattoo, if possible replace a new set of tires to ensure safety.
+ Check the brakes, gearbox to see if it works properly.
+ Check the parts of the headlights, taillights, turn signals, horns, batteries, and mirrors to ensure that there are two units.
Before going to Sapa, check your motorbike to ensure safety.
Experiences when travelling to Sapa by motorbike
For those who are new to Sapa by motorbike for the first time, it is inevitable a lot of surprises. Therefore, you should not go alone, you should go with at least one experienced member to help the whole group when needed. Here are some notes for you:
+ You should drive in the middle of the group, keeping the speed and distance reasonable with the remaining members.
+ Know the signals by hand as well as the horn of members of the delegation.
+ Observe the traffic signs on the road, pay attention to the maximum speed on each road.
+ When driving, you must obey the traffic laws, do not rush overtake, do not use alcohol while driving.
+ If you have to drive at night, you must attach reflective stickers to the rear of the vehicle to signal to pedestrians.
Here are some experiences when you want to travel Hanoi to Sapa by motorbike. Hopefully, the above information will be helpful for you on your upcoming trip.